Cheng Day Machinery embraces smart manufacturing
Chloe Liao, Taichung; Adam Hwang, DIGITIMES
Hoist and crane makes Cheng Day Machinery Works has since 2018 embraced smart manufacturing, which it says has transformed its management and solved other problems, such as labor shortages.
The Taiwan-based company has now switched to "horizontal collaboration" that enables communication and coordination among the management, sales, marketing, R&D and production teams, said company founder Pan I-ted. Executives are able to cope with shipment problems via big data analysis and the sales team can know real-time conditions using mobile devices to quickly respond to clients' needs, Pan noted.
Cheng Day used to rely on manual recording and personal inquiries in many operational processes, which prevented the business team from knowing inventory conditions and production progress for certain orders and from quickly responding to clients' needs.
In adopting smart manufacturing, barcodes have been used in production traceability from material/component preparation and feeding, manufacturing process to quality inspection, inventory and shipment, allowing a vision information system to let staff members and executives understand real-time conditions of production.
With every material/component item matched with a barcode, Cheng Day has established standardized control of materials/components and connected it with a production management system to reveal details of production.
With consulting services provided by i-Torch Technology, Cheng Day is setting up a smart factory which will be completed by the end of 2020, and expects complete smart manufacturing to kick off by year-end 2021. Cheng Day also plans to use AI to predict timing for maintaining equipment and improve product quality.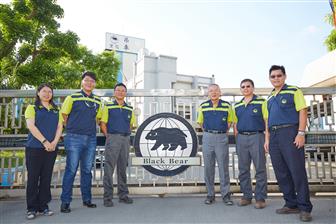 Cheng Day Machinery Works's management team
Photo: Michael Lee, Digitimes, September 2020