Hantop Intelligence Tech has developed ultrasonic machining module for CNC processing of various composite materials, according to company founder and CTO Michael Chen.
Many new materials have come into use, such as SiC and GaN for automotive semiconductors, Chen said. Composite materials are increasingly used in place of traditional aluminum alloy to reduce aircraft weights and more wearable and harder materials are used to make artificial joints and dentures, he added.
Conventional CNC machine tools are designed to process metallic materials, and using them to process new materials, mostly with fragile textures, will result in high friction, reducing efficiency and quality of processing, Chen noted.
Ultrasonic machining technology, in addition to high-speed rotation of main axes, features reciprocation of cutting tools in a fixed direction at frequencies of 20,000-40,000 times per second to let resonance effect disperse cutting force to reduce resistance, Chen explained.
The Taiwan-based firm adopts non-contact power transmission technology, similar to wireless power charging in principle, for its machines, Chen indicated.
The modular design enables users to add modules onto any CNC machine tools without purchasing entire machine tools to save cost, Chen indicated.
Hantop was spun off from National Chung Hsing University under sponsorship of Ministry of Science and Technology (MOST) in 2018.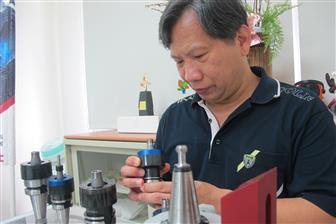 Hantop founder and CTO Michael Chen
Photo: Chloe Liao, Digitimes, August 2020