HTC-developed VR technology has been adopted for FLAIM Trainer, a system to simulate fire scenarios based on VR for training fire fighters, according to HTC.
Developed by American volunteer fire fighter James Mullins, FLAIM Trainer creates 360-degree immersive training experience, with head-mounted Vive display being part of its kit.
Building an effective fire-fighting training facility is costly, and even in a controlled environment, trainees face significant safety risks including fire hazards and cancer-causing chemicals used to repel or extinguish flames, HTC explained.
Vive Pro Eye eye-tracking technology enables FLAIM Trainer to identify and analyze trainees' eye movement and pattern to allow training instructors to understand trainees' watching behavior and thereby offer real-time first-person feedback.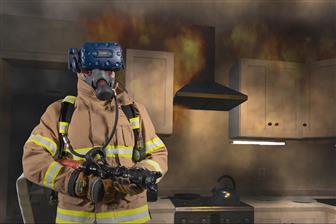 FLAIM Trainer kit, including a head-mounted Vive VR display.
Photo: HTC