Taiwan-based Hugreen has cooperated with Netherlands-based developers of greenhouses to make greenhouses smart through establishing sensing networks and monitoring systems, according to company founder and CEO Clement Lee.
About 80% of Netherlands-based developers' overseas greenhouses have been left idle simply because Dutch experts assigned to these greenhouses are not willing to stay abroad for too long, Lee said. This is one of the problems Hugreen aims to solve, Lee noted.
The Netherlands is a global leader in using greenhouses to grow crops, especially floriculture, Lee said. Netherlands-based greenhouse developers have advanced agricultural technology, proprietary crop varieties and global sales channels, but basically rely on manual labor to manage greenhouses, Lee noted, adding Hugreen's capability in setting up LoRa-based sensing networks and related monitoring systems exactly complements their strengths, Lee indicated.
Sensors can monitor soil conditions, including moisture, temperature, acidity and fertilizers, with data collected transferred via LoRa for analysis to control optimal soil conditions, Lee explained. In addition to fixed sensors, mobile cameras are used to go around greenhouses to take photos for comparison with sensing data, Lee said. Hugreen has passed Netherlands-based greenhouse developers' testing of sensing accuracy and data transmission for resulting cooperation, Lee noted.
Hugreen has 13 patents about monitoring and adjusting soil conditions, Lee said. While there are at least six methods of measuring soil moisture, Hugreen adopts permittivity to avoid influence by fertilizers and other factors, Lee noted, adding it has sent trainees to th eNetherlands to learn how to evaluate maximum effects from photosynthesis, estimate cost structure for greenhouses and other professional knowledge.
Currently, Hugreen's clients are of two categories: one is greenhouse developers and irrigation project undertakers in more than 20 countries; and the other is small farmers and academic units in universities, Lee said.
A 160-hectare greenhouse in Shanghai, China has adopted more than 1,600 sensors and 1,900 smart switches supplied by Hugreen, which has also helped it analyze optimal methods and conditions for growing 67 varieties of vegetable and fruit, Lee indicated.
Hugreen's business model is to first provide hardware and consulting services for clients and later charge certain percentages of their sales revenues after successful operation of greenhouses, Lee said.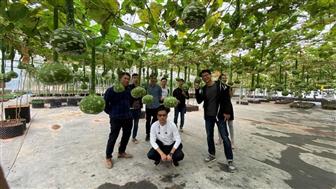 Hugreen founder and CEO Clement Lee (front right) and colleagues
Photo: Company