Winbond Electronics Corporation, a leading global supplier of semiconductor memory solutions, today extended its innovative family of certified TrustME Secure Flash memory chips by introducing the W77Q series for IoT and smart connected consumer and industrial devices.
The new W77Q provides hardware root-of-trust and secure, encrypted data-storage and data-transfer capabilities. By ensuring robust, end-to-end security in IoT devices it enables:
*Secure code updates, including over-the-air updates, via an end-to-end secure channel between an update authority and the W77Q even when the host processor or SoC has been compromised.
*Secure boot and root-of-trust
*Authenticated and encrypted data transfer between the Flash device and the host
*Secure Execute-in-Place (XiP) of boot and application code
*System resilience, supporting the key security functions of protection, detection and recovery
The W77Q series products are supplied in industry-standard packages and pin-outs, and feature a standard single/dual/quad/QPI serial peripheral interface (SPI). This means that they can be used as a simple drop-in replacement for non-secure SPI NOR Flash devices.
Independent security certification
The W77Q and W75F are designed to cover the whole range of assurance levels mandated by the European Cybersecurity Act and other regulations. The W77Q is intended for use in consumer and industrial devices which need the security functions required for compliance with the Substantial and Basic assurance levels specified in the Act. The W77Q supports conformance to the Common Criteria EAL2, SESIP and Arm Platform Security Architecture (PSA) security specifications.
The W75F is certified for Common Criteria EAL5+, which means it is suitable for use in payment and communications devices, and in applications requiring the High assurance levels specified in the Cybersecurity Act.
Hung-Wei Chen, Marketing Director for the Secure Flash product line at Winbond, said: 'The W77Q is a game-changer product, a follow-on to the existing W75F which offers the industry's strongest security in an SPI Flash memory, suitable for the most sensitive financial and communications applications. Now, with the W77Q, Winbond is meeting the need of customers to protect and authenticate any kind of smart, connected device used at home or in the factory.
Comprehensive security functionality
The W77Q offers the secure storage and data-transfer capabilities needed to protect IoT devices and user data. Its main security features include:
*Hardware-based Root-of-Trust engine
*TCG DICE-like device attestation
*Cryptographically secured Write protection
*Secure code updates with roll-back protection
*Secure boot from Flash
*Authenticated watchdog timer
*Secure interface:
-End-to-end encrypted and authenticated data transfer
-Replay Protection Monotonic Counter (RPMC)
*Incremental Security
-Fail-safe (in-field) configuration updates
-Secure symmetric key management
*Secure unique device ID
The W77Q also provides the high speed, long data retention and strong data integrity of Winbond's standard SPI Flash memory ICs. Its specifications include:
*66MHz operating frequency at Double Transfer Rate/133MHz at Single Transfer Rate
*20 years' data retention
*100,000 Program/Erase cycles
*Wide operating temperature range of -40 degree C to 105 degree C
The W75F will be demonstrated in an Arm PSA security application running on the Arm TF-M operating system.
The first W77Q part, in a density of 32Mb, is available for sampling now. The W75F is available in production volumes. More information may be found at www.winbond.com.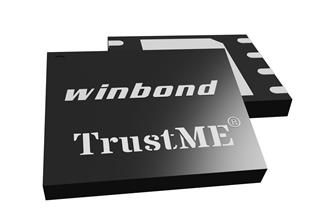 Winbond TrustME Secure Flash memory chips
DIGITIMES' editorial team was not involved in the creation or production of this content. Companies looking to contribute commercial news or press releases are welcome to contact us.