Smart vending machine solution developer Yallvend has developed an Internet-connected mask vending machine for trial use at some places in Taipei amid the coronavirus outbreak, according to company CEO Duncan Huang.
The Taiwan government has put into force a rationing scheme where surgical masks - which have been in serious shortages since the outbreak - are now only available at National Health Insurance (NHI) program-designated pharmacies around the country. Currently people need to scan their personal NHI cards when buying srugical masks (two pieces per week).
People have to use their smartphones to scan QR Code on the vending machine to let the machine authorized to use the corresponding smartphone cameras, Huang said. Then they first scans photos on their ID cards and scan their faces to let image recognition check if scanned faces coincide with the corresponding photos, Huang noted. After the double checking for personal identification, they can press the machine's button to get masks, Huang indicated, adding that the machine delivers masks without any charge for the time being.
The whole operating process takes up to one minute, Huang said. This is because the operation is based on web pages instead of App which has more strict control on users' personal data than the former, Huang noted.
Huang admitted that as the current mask rationing scheme is proceeding rather smoothly, it is actually unnecessary to deploy such vending machines. Therefore, the machine is developed on an experimental basis for further development of smart vending machines for use in hospitals, Huang indicated.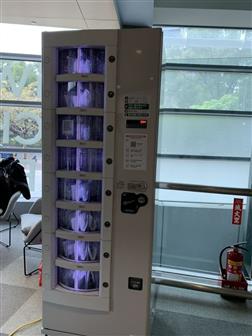 Yallvend-developed Internet-connected mask vending machine
Photo: Yihan Li, Digitimes, February 2020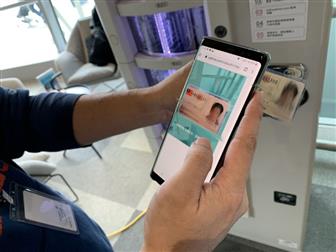 A user scan the photo on ID card
Photo: Yihan Li, Digitimes, February 2020