Pumpkin Studio, a Taiwan-based creator of location-based VR titles, has adopted a few strategies to solve user-related problems facing operation of VR games in a bid to promote development of VR games, according to the company.
Common problems include: user dizziness possibly caused by VR headsets that are too heavy to be worn for a long time; expensive game prices; and highly similar content with little differentiation, Pumpkin Studio said.
The company said its strategies are to develop arcade machines of VR games, enable VR games for online/offline social linkage, lower pricing for playing VR games.
As VR game machines are relatively complicated for maintenance, Pumpkin Studio adopts general arcade machines equipped with coin slots and operating interfaces, but replaces the displays with VR headsets and uses its own VR immersion games, the company indicated.
VR game operators, in order to focus on experience of immersion, have launched many shooting games that may lose freshness to players shortly, and cannot be shared on social media, Pumpkin Studio explained. Particularly for social networking, Pumpkin Studio uses smartphone apps to link offline (arcade game machines) to online (PC-based VR platforms) to enable players to use both, and to choose first-person games or multi-player ones at arcade VR game machines.
Pumpkin Studio will launch Quantaar, a third-person action VR game, at the end of 2020, and is in talks about loading the game on PlayStation VR platform for cross-device linkage among PlayStation consoles, arcade machines and PCs, the company indicated.
As compared with NT$200-300 (US$6.6-9.9) for playing a theme park VR game, playing of Quantaar at arcade machines will be priced at about NT$50 to attract more users, Pumpkin Studio said.
Pumpkin Studio offered in-house-developed VR games for experimental playing at Syntrend Creative Park in Taipei in late 2019, attracting more than 2,000 trial users in 12 days, the company noted, adding that based on a questionnaire survey of about 1,000 trial users, 90% hoped to experience such games again.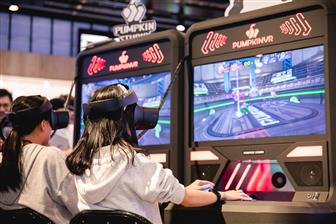 Pumpkin Studio-developed arcade VR game machines, with players wearing VR headsets
Photo: Company