AI-based marketing solution developer AccuHit AI Technology Taiwan has raised NT$70 million (US$2.3 million) in pre series-A funding round, with the fund to be used to enhance R&D and expand scope of products and services, according to company co-founder and CEO Jason Lin.
Tokio Marine Newa Insurance and National Chiao Tung University (NCTU) Angel Club are the two new venture capital investors in the funding round. Through the investment, Tokio Marine will apply AccuHit-developed AI-based marketing solutions to its insurance products, cooperate with AccuHit to create new business models and help AccuHit tap the Japan market, while NCTU Angel Club will help AccuHit set up an AI core R&D team to expand development of MarTech (marketing technology) services for business use.
AccuHit was selected by Microsoft for Startups and PwC's Scale-up accelerator in 2019 and has technologically partnered with Microsoft Taiwan's AI Infinity program and LINE to help Taiwan-based enterprises in digital transformation business operation.
With the goal of becoming the first Taiwan-based MarTech brand, AccuHit will cooperate with Microsoft Taiwan to promote AccuNix, its MarTech platform using Microsoft's Azure cloud computing and machine learning technologies, among enterprises.
AccuHit adopts a double-barreled strategy for marketing its products and services: subscription-based use and project-based consulting, and has so far had nearly 100 clients of which 80% are on a subscription basis.
AccuNix can help users track and identify customers' historical purchasing behavior and integrate such data, and AccuHit will offer a solution of analyzing such data, such as cluster analysis and prediction, for value-added application in first-quarter 2020.
AccuHit plans to set up marketing bases in Japan and Singapore in 2021.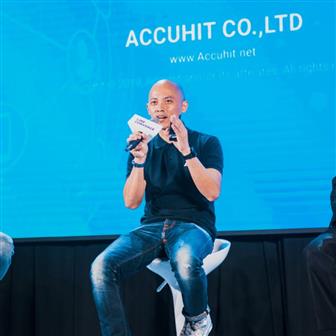 AccuHit AI Technology Taiwan co-founder and CEO Jason Lin
Photo: Company