UK Tech Rocketship Awards open to Taiwan startups
Mark Tsai, Taipei; Adam Hwang, DIGITIMES
The UK Tech Rocketship Awards are open to Taiwan-based startup businesses for the first time, with six candidates to be selected to participate in the London Tech Week 2020 during June 8-12, the British Office in Taipei has announced.
Three categories of the UK Tech Rocketship Awards are available for Taiwan-based startups: AI and data science covering data analytics, data centers, cloud computing, AI, machine learning, digital infrastructure, business model transformation, process innovation; technologies for an aging society (life science) mainly covering medical technologies, digital health, new medical care technologies, smart housing and devices; future mobility covering innovative smart city solutions, IoT, autonomous and connected vehicles, urban connectivity, citizen engagement.
Two Taiwan-based startups will be selected for each category. Qualified competitors are startups which develop innovative technology-led solutions, have had business operation for over two years and are looking to internationalize.
The UK Tech Rocketship Awards are an excellent platform for startups to grow internationally and Taiwan-based ones are encouraged for participation to gain international exposure and expand global networks, said British Representative to Taiwan Catherine Nettleton.
For interested Taiwan-based startups, the deadline for applications is April 13 and the six winners will be announced on May 11.
So far, more than 1,700 startups from Australia, India, Japan, New Zealand and South Korea have participated in the UK Tech Rocketship Awards.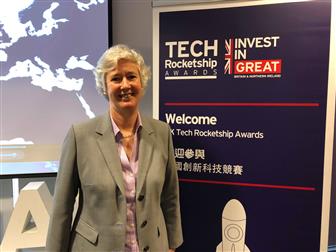 British Representative to Taiwan Catherine Nettleton
Photo: Mark Tsai, Digitimes, February 2020