Foxconn offers HPC facility for use by cancer center
Ninelu Tu, Taipei; Adam Hwang, DIGITIMES
Foxconn Electronics has offered a high-performance computing (HPC) facility for use by National Taiwan University (NTU) Cancer Center, according to Yong Lin Health Care Foundation established by former company chairman Terry Gou.
The center, set up in Taipei with donations from Gou via the foundation, uses the HPC facility to detect and locate tumors, simulate treatment methods and processes for choosing optimal treatment strategies, analyze biomolecular mechanism and recognize gene mutations, said the foundation. The center came into trial operation in December 2018 and normal operation in July 2019.
The HPC facility is located at Foxconn's operation base in Kaohsiung, southern Taiwan, and connected with the center in the north via fiber-optic networks, the foundation noted, adding in view of increasing demand for HPC, the center is likely to set up a smaller HPC facility nearby.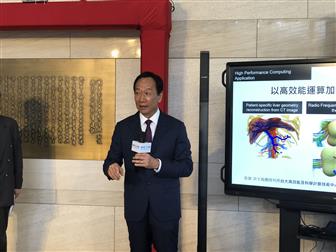 Foxconn founder Terry Gou
Photo: Ninelu Tu, Digitimes, December 2019