Taiwan sees impressive smart transformation in retail, logistics
Fisher Yu, Taipei; Willis Ke, DIGITIMES
Taiwan's commercial sector has witnessed significant achievements in smart transformation, especially in retail and logistics, over the past year, with many players having created brand-new business models driven by AI, big data and IoT applications, according to May Lee, director general of the Department of Commerce (DOC), Ministry of Economic Affairs (MOEA).
Lee made the remarks at a recent forum on Taiwan's smart commerce hosted by DOC. About 600 people attended the event where keynote speeches were delievered and diverse smart commercial applications and solutions were showcased by Industrial Technology Research Institute (ITRI), retail, logistics, and e-commerce firms and startups. She said that smart transformation of the country's commerce sector will accelerate further under the government's policy support, with more intelligent applications to emerge soon.
At the event, Pei-Zen Chang, executive vice president of ITRI, also said that ITRI has zeroed in on four aspects -system, service, software and startup -in pushing for Taiwan's industries to go smart by leveraging AI, big data, cloud computing and IoT technologies accumulated over the years.
Among the keynote speakers, KW Chien, e-retail department head at convenience store chain FamilyMart, said as consumers can now easily get diverse product information online, the past advantages enjoyed by traditional retailers have gone. In the digitalization era, Chien stressed, the decisive match point in the retail market lies in the degree of understanding the needs of consumers.
Through a single cross-industry e-commerce platform, consumers can purchase products supplied by all the distribution channels, which can be coupled with strong logistics capability to provide consumers with one-stop buying and fast delivery services, according to Chien.
Money flow and logistic flow have been crucial issues in e-commerce operations. As the former can be easily addressed with payment tools available now, Chien continued, whoever can harness the last mile of logistics or physical delivery can better grab business opportunities. This can explain the rapid emergence of UberEat and Foodpanda.
Amazon Global Selling doing well in Taiwan
Clare Lin, general manager of Amazon Global Selling Taiwan, said that since Amazon set up an office in Taiwan in late April 2017 under its Global Selling Program to better connect Taiwanese sellers and global buyers, many Taiwanese suppliers have joined the program to engage in e-commerce businesses.
Lin said that total annual global retail sales amount to around US$20 trillion, with e-commerce transactions growing fast to command an 18% share of the total. The ratio, although quite smaller than retail sales via physical stores, is expected to surge at a 10x pace along with the rapid advancement of various smart technologies.
Amazon has set up comprehensive global selling and logistics systems to support e-commerce businesses worldwide. For the moment, third-party cross-border e-commerce transactions have accounted for over 25% of total third-party sales. To meet the resultant strong demand for logistic services, Amazon has set up 170 operation centers around the world to provide fast delivery services for sellers and buyers, according to Lin.
SW Chen, CEO of Taiwan AI Academy, said since the third wave of AI development started in 2010, the focus has been on machine learning of human experiences.
AI has its limitations, Chen continued, but machine learning algorithms can work well in finding the unknown from the known as long as the linkage between them is strong enough.
Chen indicated that machine learning has developed fast in e-commerce, smart manufacturing and healthcare sectors, with healthcare registering the fastest development as data generated by the sector are less vulnerable to interferences.
He stressed that Taiwan's solid tech prowess and AI must be combined to facilitate professional integration of vertical domains such as retail, logistics, manufacturing and healthcare.
Meanwhile, logistics service firms Morris Enterprise, Scanwell Logistics and Quantium Solutions were also present to share diverse technologies associated with secure transportation of pharmaceuticals, international cargo handling and e-commerce logistics.
Many startups engaged in smart commercial and retail applications and solutions also introduced their latest offerings at the event. They included GoWiFi , Eunomics, InforCharge, Point Innovative, Dipp, Giftpack and Showhue.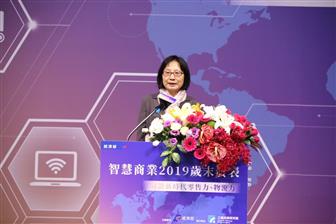 May Lee, director general of the Department of Commerce, Ministry of Economic Affairs (MOEA)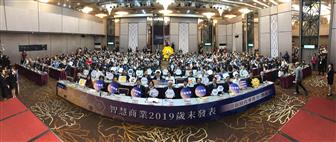 Attendees of the DOC-hosted forum on smart commerce
Photos: Digitimes staff, November 2019