Paris-Saclay, a research-intensive and high-tech business cluster in the south of the French capital city, aims to become an international scientific and technological hub competiting with Silicon Valley, according to senior project manager Jeremy Herve.
Paris-Saclay consists of University of Paris-Saclay, Ecole Polytechnique, higher education institutions, public and private research organizations as well as R&D centers and labs set up by international high-tech firms such as Dassault Systemes, General Electric and Airbus, Herve said.
Based on these resources and innovative spirit, Paris-Saclay incubates startup businesses, and enterprises stationed there are able to evaluate commercial feasibility for startups' innovations and marketability, Herve said.
Paris-Saclay focuses on five areas: ICT technologies; healthcare; energy efficiency; aerospace, defense and security; mobility services, Herve said. In addition to accelerators/incubators established in university campuses and enterprises, there are independent ones, Herve noted.
The French government has set aside a budget of EUR10 billion (US$11.0 billion) to help accelerators/incubators and encourage big businesses to provide operational resources for startups, Herve indicated.
Under government's financial assistance and Paris-Saclay's operational mechanism, most of the startups at Paris-Saclay remain independent. Cedric Auliac, an AI expert at Paris-Saclay, indicated that if all startup businesses are eventually acquired by big businesses, it will be difficult to bring about real changes to technological development.
One of the startups YoGoKo, which provides communication solutions, has helped France-based Vedecom Tech develop IoV positioning technology with errors of only a few centimeters.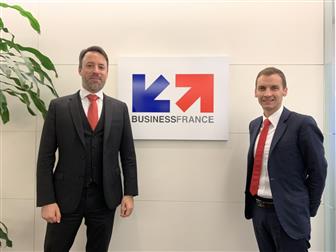 Paris-Saclay senior project manager Jeremy Herve (right) and AI expert Cedric Auliac
Photo: Yihan Lee, Digitimes, December 2019