TripMoment uses VR technology to develop online tourism platforms to enhance tourist experience, according to company founder James Lee.
The Taiwan-based startup has developed three platforms: TripMoment, a travel agency and TripMoment VR, Lee said.
TripMoment provides video content of detailed information about tourism sites to let tourists as thoroughly as possible know their tourism activities beforehand, aiming to hike tourists' satisfaction with sight-seeing trips. TripMoment plans to introduce AI to provide customized sight-seeing trips, Lee noted.
The travel agency provides a complete package of travel services for tourists and advertising-based marketing services for partnering government tourism authorities, airlines, hotels and restaurants, Lee indicated.
TripMoment VR is a VR theme park to provide users with VR experience and immersive interactions about tourism destinations around the world, Lee said.
The tourism industry needs to use technology to provide customized sight-seeing trips on a large scale, Lee indicated.
Currently focusing on the domestic market, TripMoment plans to tap other markets in Asia, and it plans to modularize VR services for use on a franchise basis in overseas markets, Lee said.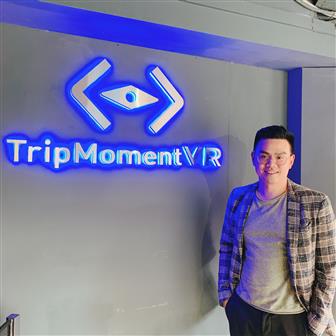 TripMoment founder James Lee
Photo: Vicky Liu, Digitimes, December 2019