Taiwan-based startup InnoVart Design has developed a digital communication device, CarWink, allowing drivers to communicate with other drivers and vehicles behind them using texts and animations, according to company founder and CEO WC Chou.
Chou said CarWink is a solar-powered, voice-control and portable vehicle-connection solution integrating software, hardware and app, and users can use a distinct emoji feature of the device to alert drivers following them to any incidents ahead.
Drivers can hang the circular, digital display on their rear windshield and use voice prompts to display its pre-set animations or messages. For example, if a car is honked at by a following car when stopping to let a pedestrian cross, the driver can say "CarWink, pedestrian crossing" and then the device will display an image of a figure crossing a road followed by a text reading "ped xing," according to Chen.
CarWink can help reduce disputes among drivers and facilitate traffic flow, Chou stressed, adding his company has just completed the first-batch volume production of the device for shipments to the US and Japan.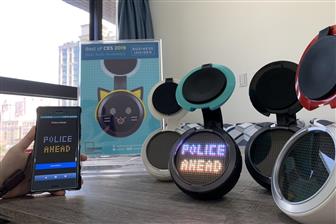 InnoVart Design's CarWink
Photo: Yihan Li, Digitime, November 2019