The establishment of a charging station standard is necessary for a market to see broader adoption of electric cars, according to Jacques Borremans, head of Charging Interface Initiative (CharIN) Asia.
He noted that without a finalized standard, Taiwan will continue to see stagnant acceptance of electric cars.
Prior to 2017, overall installment of electric car charging stations in South Korea had had difficulties surpassing 500 units, but the number went up to more than 1,500 units in 2017, and has been growing rapidly since the government adopted CCS1 as the standard in 2016.
Borremans pointed out that people show more confident in buying electric cars after seeing the broad installation of charging stations. Citing South Korean government data, he noted that the number of electric cars registered in the country was 10,855 units at the end of 2016, and went up to 25,108 in 2017 and 55,756 in 2018.
At the moment, Taiwan still does not yet have a standard for electric car charging stations and most charging stations in Taiwan are equipped with multiple charging adapters, which significantly increase the costs for establishment.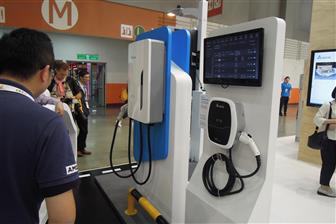 The availability of charging stations is crucial to the electric car market.
Photo: Digitimes file photo