Both 5G and Wi-Fi 6 networks provide advancements in performance to enhance mobility, capacity and data rates. Leveraging artificial intelligence (AI) and Internet of Things (IoT) technologies, computing is becoming more powerful, enhanced by wider bandwidth, high speed, low latency and massive connectivity. Servers are almost everywhere, but things not just happen in the data center, but also remotely.
The booming business opportunities of high performance computing and edge computing improve user experience in every specific use cases. With strong growth and increased competition in the data center sectors of North America and Europe, the trend is expanding to Asia region to deliver quick and massive growth.
The latest strong growth of Lenovo's data center group is a good example. In an interview, Han Chon, general manager of Lenovo Data Center Group Central Asia Pacific region, talked about the strategy for achieving growth in the data center market. He is responsible for leading sales and marketing across 12 nations and regions including Taiwan and Hong Kong in this area. Having achieved significant growth and industry leadership in 2018, he expressed gratitude to his entire team for making great efforts.
Embracing AI technologies reducing human resource constraints
The customers of the Central Asia Pacific region are showing strong intention to welcome and embrace new technologies, Chon said. The high performance computing and AI technology have a lot to benefit from each other. As the more data generated by various mobile devices, AI is helping us make sense of the data. The Big Data Analytics is becoming the driving force to create new or enhanced business models more closely attuned to the needs of end customers. AI makes enterprises to increase efficiency and spend less on administrative tasks.
Lenovo Data Center Group (DCG) looks at this trend and very openly to cooperative with different AI technology partners to maximize the opportunities presented by the digital economy. Meanwhile, DCG keeps investing more resource to work closely with educational organizations, research institutes, global enterprises and big electronics and semiconductor companies. The collaboration helps to introduce new solutions to tackle major issues that enterprises face.
More fast-growing companies that leverage AI technology for their core business create an immense business benefit through data center applications. However, for performance reasons, the remote data-generating devices must be close to computing and storage resources. A slimmer data center, or called a mini version of a data center server, could work as edge computing node takes hold in various industries. The edge computing trend is gaining ground with good reasons.
Crafted edge server series accelerating business opportunities
Over the past few years, Chon watched there has been a steady increase in the number of mobile devices provided high resolution and quality video streams easily. AI technologies make edge computing to deliver reliably, speedily while taking more care of data security. The AI-enabled edge servers can better manage their resources and clearly understand the merits. This is why Lenovo DCG introduced the first edge computing server series for developing the business in the beginning of 2019. The Lenovo ThinkSystem SE350 Edge server equips with small footprint and power efficiency allowing for reliable server-class performance at many remote locations.
The SE350 can handle temperatures from 0 degree to 55 degree C, as well as tolerate locations with high-dust and vibration, such as construction site trailers and manufacturing floors. It can be deployed equally well in a traditional office or branch location due to its office-friendly acoustics. The essential cyber-security offerings include key-encrypted storage and physical security features, such as a locking bezel, as well as intrusion and tamper-detection mechanisms. And the networking connectivity options equip wired 10/100Mb/1GbE, 1GbE SFP, and 10GbE SFP+, as well as secure wireless Wi-Fi, cellular LTE and 5G connections in the future.
For decades, computing was done solely on big servers in the central controlled room of companies. Over the last two decades, however, businesses gradually began shifting their workloads to the cloud and helped companies reduce capital expenditure and increase return on investment. But the edge servers are terms that are well understood by companies today, even we could see the edge computing approach making data center everywhere, Chon describes to support the ideas.
Building a Thriving Ecosystems in Taiwan for further developing market
Owing to the growing presence of hyper-scale cloud service providers, extensive penetration of Internet connectivity as well as keen focus on data security, the demand for data storage and cloud services is expected to grow exponentially across the ASEAN and Taiwan region. Lenovo DCG works closely with customers to deliver value to Taiwan industries and continue to expand the products portfolios to make customers to grow faster.
Chon highlights Taiwanese electronics manufacturers are on the frontline of cutting-edge technology to deliver premium products to global brands. Taiwan manufacturers are also investing AI-enabled data center solutions to help boost growth and innovation. Upcoming data center markets are poised to experience exponential growth due to abundant availability of resources as well as government policies supporting. That shows a natural growth of Taiwan data center business.
For fast responding the market demands, Lenovo DCG is creating the collaborative business ecosystems to accelerate innovation. "Because no one can do it all and do it alone, the partnership of ecosystem partners or channel partners will be the key strategy to grow regional business," Chon says. Now that more industries are becoming digitally savvy, the Lenovo DCG partners will play an important role to navigate digital disruption and become more agile and responsive to customer's needs. "Without their help we could not go to the level we today's position", Chon says.
Although Lenovo DCG is a very young organization for only 2.5 years, the business scope and team members are both growing fast. "All Customers are chasing the solutions to break the limits of computation and push the boundary every day," Chon adds. They want to do better and more. Things like to have better management of their fleets, or simply such as growing new business and improving efficiency.
For Taiwan ecosystem partners, "Lenovo DCG teams are here to stay and to play," Chon continues very positively, "Today we extend the high-performance architecture from data center to the edge with the complete product families, becoming valuable partners and bring tomorrow today for Taiwan customers." With these high-performance products and ecosystem partners, Lenovo DCG is ushering in a new age for data center solutions.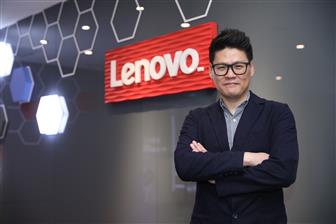 Han Chon, regional general manager, Lenovo DCG Central Asia Pacific
DIGITIMES' editorial team was not involved in the creation or production of this content. Companies looking to contribute commercial news or press releases are welcome to contact us.