Orbotech's yield enhancement solutions are harnessing AI technologies to provide added value to Taiwan panel makers
Sponsored content
The 8K resolution display, or Super Hi-Vision (SHV), is expected to succeed 4K and become the next TV standard. Earlier this year at CES 2019, global TV brands and panel makers came together to form the 8K Association (8KA) and promote this new technology. The upcoming 2020 Tokyo Olympics is already facilitating technological advancements that will catalyze the development of the 8K TV market. According to IHS Markit, global sales of 8K TVs are forecast at 215,000 units in 2019 growing to 1.428 million by 2020. By 2022, sales are expected to stand at 5 million. This optimistic forecast presumes that 8K TVs will become a stable market segment as of 2021.
Meanwhile, as flat-panel display (FPD) is rapidly trending towards commoditization, Taiwan's panel makers continue to experience fierce competition with key players from China and South Korea. In order to differentiate themselves, Taiwanese FPD makers adopted a strategy that focuses on improving yields for high-end display segments by leveraging advanced process technologies. Over the past five years, Taiwan's panel manufacturers have successfully served their global TV brand customers and have exhibited tremendous agility while accelerating the time to market of high-end products and maintaining excellent customer satisfaction.
Taiwan's panel makers are continuing to build on their successful innovation and are now turning to 8K SHV TVs. The industry in Taiwan is constantly looking to reinvent itself and is starting to explore how artificial intelligence (AI) technologies can help to innovate the process and manufacturing solutions for these 8K TV panels, from design to mass production. This ability to think ahead and pioneer the industry is how Taiwanese manufacturers have traditionally differentiated themselves from the rest of the industry and how they have managed to stay ahead of the game.
Facing the challenges of sophisticated 8K panel engineering design, process equipment and material suppliers, the need for panel makers to control costs continues to be a priority. At the same time, new technologies are emerging that provide revenue opportunities but also require manufacturers to partner with leading process solution providers. Customized AI solutions are becoming a game changer and offer a less costly alternative to improve yields.
For over 30 years, Orbotech has delivered end-to-end yield enhancement solutions for the mass production of flat and flexible panels including automated optical inspection, electrical testing and repair. Through its long-term partnership with Taiwanese panel makers, Orbotech has helped Taiwan's FPD industry maintain its top position in electronics manufacturing. In the run up to the Touch Taiwan 2019 exhibition, we spoke to Mr. Shahar Michal, President of Orbotech Pacific Display Division, Mr. Ray Tsao, General Manager of Orbotech Taiwan (FPD), and Mr. Ethan Lu, R&D Manager of Orbotech Pacific Display, who discussed how smart AI-driven solutions can be leveraged to boost the production of 8K resolution panels and to improve manufacturers' operational and process control.
8K TV panels - ramping up production sequences
What makes 8K resolution significant is that with the use of very big display panel sizes such as 85-inch, the images are much more detailed with far less visible pixilation than before. Michal explained that the major technological challenges of 8K TV manufacturing are not solely due to its higher resolution. The process required to manufacture 8K panels is far more sensitive and so the yield management process, including inspection and classification, has to be far more sophisticated. Based on advanced algorithms and machine learning, Orbotech's AI solutions leverage additional information, including imagery and other data, along with an application-specific understanding of the display manufacturing process, to identify and tag defects in the early stages of inspection, analyzing and classifying them as killer or non-killer defects. Killer defects are repaired, and the process is continually analyzed for optimization. Orbotech's AI-enabled solutions provide actionable manufacturing insights that enable manufacturers to make faster, smarter decisions about their manufacturing process.
Once Orbotech's AI-enabled features have fast tracked these key defects, the process engineering teams can take the relevant actions to solve the issues created in earlier stages. This approach will shorten the yield improvement cycle and save manufacturing costs to meet Time-To-Market expectations. Michal continued to explain that based on its decades of experience and expertise in the FPD industry, Orbotech has used its AI solutions to develop several very powerful use cases in the FPD manufacturing process.
Tsao describes how 8K TV panel manufacturing in Taiwan is in its first year. The first half of 2019 has mostly been focused on design verification and pre-production. The second half of 2019 will look at the mass production of small volumes. Both stages have already tackled, and will continue to tackle, different technological challenges. Orbotech's AI solutions simplify the usually lengthy and complex phase of data tagging and training by embedding application specific knowledge in the system, thereby making it more effective. For security, the data stays in the customer's system.
Lu shared with us how Orbotech is also focusing on software development to satisfy new customer requirements. He explains that there are several cases in customer fabs where AI-enabled defect classification has achieved 90% to 95% accuracy. This high performance can directly contribute to double-digit yield improvement in a number of production processes. Taiwanese customers are ecstatic with these results and are particularly thankful for the capabilities afforded by Orbotech's software, says Lu who is very proud of his software project teams.
For decades, Orbotech has worked closely with its Taiwanese customers to develop products and solutions that offer real value and that enable them to grow faster and stronger. Michal explained how Orbotech sees the Taiwanese display manufacturers as pioneers of the display market, focusing on advanced manufacturing processes for niche and premium applications. By leveraging AI within the solutions, the AI will act like a knowledgeable teacher and will help to increase production yields and improve productivity as well as saving labor.
During the upcoming Touch Taiwan 2019 exhibition, Orbotech will showcase its latest advancements in FPD process solutions including several powerful AI use cases in the display industry. The theme of Orbotech's booth is "Solutions to Display the Future," which is the vision that Orbotech would like to share with clients. Whether the next generation display technologies include 8K LCD, OLED or even MicroLED, Orbotech's solutions will support all these technological advances and help drive innovation. Please visit Orbotech at booth# J502, Hall 1F, Nangang Exhibition Center.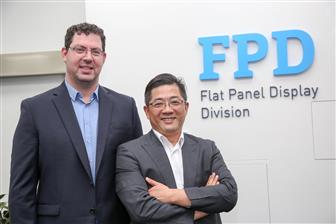 Mr. Shahar Michal, President of Orbotech Pacific Display Division, Mr. Ray Tsao, General Manager of Orbotech Taiwan (FPD)
DIGITIMES' editorial team was not involved in the creation or production of this content. Companies looking to contribute commercial news or press releases are welcome to contact us.