The global printed circuit board (PCB) industry went into a slightly decline in 2016. According to the research report from the Industrial Economics and Knowledge Center (IEK), the value of PCB production in 2016 was US$ 58.2 billion, representing a 1.9% decline compared to the previous year. But 2017 has brought about a change as the industry faces both challenges and opportunities. The recently released iPhone 8 and iPhone X require high-end HDI (High Density Interconnect) PCBs using advanced technologies such as mSAP (modified semi-additive process), which is a substrate-like PCB (SLP) process.
These new flagship smartphones combine the cutting edge features of bezel-less OLED display screens with larger batteries which require more PCBs in the same space, including flexible printed circuit boards (FPC) and Rigid-Flex PCBs. These advanced PCB products have become a massive growth momentum driving the future PCB market towards a very promising direction.
Process equipment and material suppliers play an important role in facing the challenges posed by mSAP. The need to control costs continues to be a priority for PCB makers, while new technologies which enter the landscape provide revenue opportunities but require manufacturers to partner with leading process solution providers. In a recent interview with Mr. Arik Gordon, Corporate Vice President and President of Orbotech's PCB Division, he talks about the development of new process-enabling solutions for mSAP PCB manufacturing. Orbotech has been developing leading yield-enhancing solutions for the manufacture of electronics products for over 30 years. Through its long-turn partnership with Taiwan PCB makers, Orbotech has helped the Taiwanese EMS industry to maintain its leading position in electronics manufacturing.
However, the yield improvement process of mSAP PCBs is more challenging than the yield improvement process of other technologies, Gordon mentioned. mSAP production relies on equipment offering fine resolution (L/S=10/15µm) with high imaging quality and performance. This critical fine resolution process translates into more steps and greater complexity in the manufacturing process, with attendant process variations that kill the yields. The yield ramp-up challenges take time to overcome, and this raises the overall cost of the mSAP process.
Working continuously with PCB makers has enabled Orbotech to develop a wide range of solutions designed specifically to make the demanding requirements of mSAP and advanced HDI PCBs. Orbotech offers an entire suite of solutions for the mass production of mSAP, including DI (Direct Imaging), AOI (Automated Optical Inspection) and AOS (Automated Optical Shaping) - the 3D shaping of opens, shorts and nicks. Furthermore, some of Orbotech's solutions, such as inkjet printers, are not dedicated for mSAP technology but are highly suitable and in great demand from PCB makers.
New released Ultra Dimension Series - A revolution in the AOI room workflow
Orbotech launched the Ultra Dimension Series, the 4-in-1 AOI solution, and the new manufacturing workflow of the AOI room at TPCA 2017 Show in Taipei. The Ultra Dimension is a single solution that combines four different systems - high precision high quality pattern inspection, single scan laser via (LV) inspection, remote Multi-Image Verification (RMIV) and automated 2D metrology - in one piece of equipment. Orbotech's Ultra Dimension creates a whole that is greater than the sum of its parts, as each part works in perfect synergy with the others. In doing this, Orbotech also creates new quality and functionality standards for the AOI workflow. This new AOI solution allows manufacturers of advanced PCBs using mSAP the flexibility to inspect a variety of applications and materials, and reduces the total cost of ownership (TCO).
Gordon highlights that Orbotech's Remote Multi-Image Verification feature enables the remote verification of multiple image defects, which are automatically and simultaneously acquired during the AOI inspection process in PCB manufacturing fabs. This technology provides benefits to the In-Process Quality Control (IPQC) inspection operators who accurately differentiate between real and false defects, which are then sent to offline RMIV stations. The Ultra Dimension with RMIV also reduces the number of verification stations required, thereby freeing up valuable floor space in the AOI room and allowing manufacturers to cut their overall labor and operational costs significantly.
Smart Factory software solutions boosting data analytics technologies
Software systems are more important than ever in the age of Industry 4.0, Gordon mentioned the further development of advanced technology trends. Orbotech Smart Factory software suite is an Industry 4.0 compliant manufacturing solutions that optimizes production services and data management. The software suite connects to all Orbotech's solutions and collects production data. It enables seamless integration into the production environment, serving as an interface with systems like MES.
Meanwhile, Orbotech's InCAM series products are software solutions for rigid, flex and rigid-flex PCB production. InCAM is a dedicated CAM solution that combines analysis and editing capabilities with automatic production data optimization to perform high-precision CAM tooling PCB manufacturing. InCAM provides features with automatic design-for-manufacture optimization to help PCB manufacturers achieving high yields and a competitive edge for next generation product design.
Continuous innovation in smartphones enables new features, and mSAP PCBs are being used in more and more of the leading global smartphone brands.
With more than one billion handsets a year, it is likely that this trend will have an enormous impact on the manufacturers of PCBs and components for smartphones, and Taiwanese PCB makers have already started preparing their production to fit these requirements.
It will be interesting to see how the market will develop over the next two or three years and how this trend will affect growth, especially of Chinese smartphone brands. The major Chinese vendors have been busy establishing signature products following the government's push for more innovation. Gordon sees that the positive development of the PCB market will expand Orbotech's presence in Asia, and that PCB makers both in China and Taiwan will continue strengthening their market position in close collaboration with Orbotech.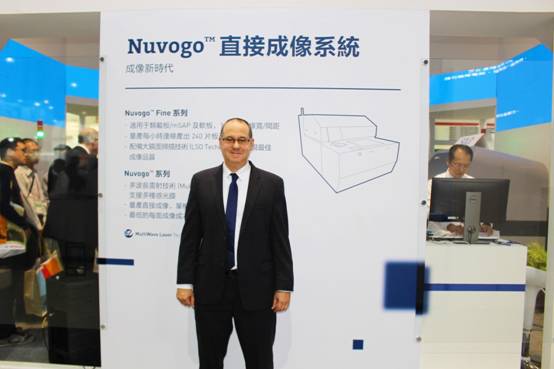 Arik Gordon, Corporate Vice President and President of Orbotech's PCB division, is very optimistic to see Orbotech solutions in advanced PCB sectors and gain high market share.
DIGITIMES' editorial team was not involved in the creation or production of this content. Companies looking to contribute commercial news or press releases are welcome to contact us.