Taiwan-based startup Medical Innovation Technology (MIT) has been dedicated to promoting its medical image recording platform to address the needs of regional hospitals, clinics and long-term care institutions, according to company president Stevens Chen.
Chen said that MIT can offer medical image recording apps, including eSnapshot platform, to help medical units with fewer tech resources to collect, store, and file their healthcare images for diverse application scenarios in a more cost-effective way.
Chen said ordinary visible injury images can be stored in databank in the form of JPG files so as to sharply lower costs, but if needed, the PJG files can be converted into the digital imaging and communications in medicine (DICOM) protocol and then stored in the picture archiving and communication system (PACS) for further application.
Chen said that in line with growing awareness of patients' autonomy and rampant development of AI applications, medical establishments must adopt new collection and storage solutions for medical images to facilitate wider applications in the future.
He said MIT's eSnapshot app, now available on Google Play and Apple Store, allows the use of personal mobile devices to record images of patients' wounds or physical symptoms to address possible medical disputes.
The eSnapshot platform can be connected with healthcare information systems at hospitals to provide wounds recovery progress, patients' personal data management and diverse healthcare image collection services. This allows hospital managers or physicians to focus on management and medical care, according to Chen.
Chen said his company will also extend its image recording systems to long-term care institutions.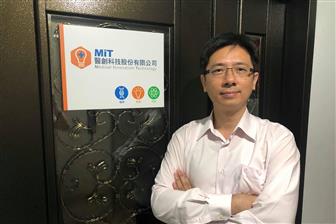 Medical Innovation Technology president Stevens Chen
Photo: Mark Tsai, Digitimes, August 2019