UK startup Yourgene Health, engaged in non-invasive prenatal testing services, is promoting its bioinformatics and next-generation gene sequencing platforms seeking to help materialize precision medicine and popularize genetic tests, according to Darren Lin, head of the firm's research services.
Lin said that his company can collect and analyze related big data for gene sequencing and testing applications, and can leverage latest ICT technologies to sharply boost testing accuracy and lower testing costs, making precision medicine and genetic tests more easily achievable and affordable.
Lin said only blood from the arm is needed to conduct non-invasive prenatal testing, generating no amniocentesis-associated risks. Based on statistics, a fetus 10-12 week old can provide the most embryo chromosome, he said, adding that the volume of fetus chromosome must reach at least 3.5% of the given blood sample to secure the DNA test accuracy for the fetus.
Lin noted that Yourgene Health is moving to lower gene sequencing cost, now commanding the largest portion of non-invasive prenatal testing charges. He added the company now focuses on three business aspects: metagenome sequencing, whole genome sequencing (WGS) and whole exome sequencing (WES).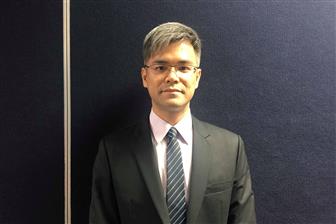 Darren Lin, head of research services at Yourgene Health
Photo: Mark Tsai, Digitimes, July 2019