Osense Technology, founded in 2017, is a developer of artificial intelligence (AI) and augmented reality (AR) applications, mainly developing object recognition solutions for in-door space, according to company CEO Joseph Wang.
A basic fact about AR is that an object must be designated in order for created content to show up in the AR environment and this makes object recognition a critical technology for in-door space AR development.
Osense has developed a patented system called Vision Based Indoor Position (VBIP) that can help its AR platform recognize the whole in-door area without GPS signal. The technology also detects geomagnetic wave to position the user's location to minimize errors.
Osense has used the technology to build a smart baseball stadium app that is able to offer a variety of services needed by fans visiting baseball stadiums, including transportation routes, parking information, lavatory locations, seat locations, souvenir and dining services, stadium facilities, game schedules, and updates on baseball teams, among others.
Wang expects the app to help stadiums create new business flow and bring in additional values to stadium owners, fans, broadcasting crews and accessory vendors.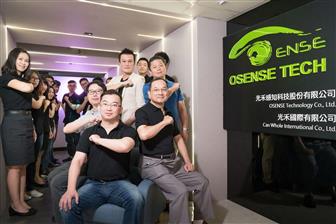 Osense CEO Joseph Wang (center) and development crew
Photo: Company