Computex 2019: QNAP to showcase backup solution with deduplication, AI-powered smart applications, refreshed network appliances, and more
Press release
QNAP Systems (QNAP), a leading computing, networking and storage solution innovator, is at Computex 2019 (Nangang Exhibition Center, Hall 1, Booth No. J0830) showcasing its lineup of solutions and products.
At the show, QNAP will exhibit Hybrid Backup Sync 3.0, an efficient backup solution with data deduplication functionality; QuMagie, an AI-powered smart image recognition system; innovative network appliances; enterprise-class flash-optimized solutions; and Industrial IoT solutions. QNAP will also unveil Drive Analyzer, an AI-enhanced solution co-developed ULINK Technology (an industry leader in drive testing technologies) for analyzing and predicting the expected life of storage drives.
Hybrid Backup Sync 3.0 is an integrated backup & recovery solution for local, remote, and cloud storage space; helps minimize downtime and maximize backup efficiency. It now includes QuDedup technology that deduplicates the data at the source to increase the efficiency of multi-version backup to the destination storage while also optimizing storage utilization. With the support of over 20 integrated cloud services and the TCP BBR algorithm, users can easily implement hybrid cloud backup with greater flexibility and efficiency.
QuMagie is QNAP's next-generation photo management application that integrates AI-based photo organization. It uses AI to improve facial recognition, subject recognition and geography information analysis of images stored in the NAS to provide an upgraded user experience for media file management. More apps (including Qsirch 4.1 and Qfiling) also leverage AI to facilitate photo searching.
QVR Pro 1.3.0 is QNAP's next-generation video surveillance solution, now includes facial recognition. With QVR Face, an advanced smart imaging application based on Intel OpenVINO and Intel VAS AI face modeling, QVR Pro can accurately identify people in surveillance streams to satisfy various monitoring needs. The facial information and warning events analyzed by QVR Face can be queried and received by the QVR Pro Client.
QNAP boosts networking efforts to roll out a refreshed Guardian QGD-1600P that integrates managed switch, Power over Ethernet (PoE) capabilities, and NAS into one device. The QGD-1600P is a 16-port managed switch based on the Microchip VSC7425 that features port-based PoE control and is IEEE 802.3bt ready with power level up to 90W, and supports VLAN and QoS. The QGD-1600P also features an Intel Celeron J4105 processor, two 2.5-inch SATA drive bays, two PCIe slots, HDMI output, and runs the QTS operating system with the App Center to realize various applications including virtual machines, containerized apps, and video surveillance.
Optimized for Industrial Internet of Things (IIoT), QIoT Suite 2.0 supports OPC Unified Architecture (OPC UA) to enhance IoT application potential for industrial automation. It supports OPC UA servers/clients, as well as a gateway to value mapping among servers and clients, assisting organizations in easily adopting IIoT solutions into their businesses with boosted productivity and reduced costs.
QNAP's next-generation intelligent robot, AfoBot II features an enlarged 10-inch screen and upgraded hardware, including two 5 watt stereo speakers for higher sound quality, a noise-cancelling microphone for better voice recognition, sound source detection that enables automatic rotation, a Mini PCIe slot for installing a 4G LTE module, supports USB to LAN, and HDMI output to a larger screen. AfoBot II is also enhanced with more powerful features for businesses scenarios, such as video conferencing and AI facial recognition. It is ideal as a video call robot, digital signage robot, reception robot, and is also useful in a wide range of fields including smart homes, healthcare, smart banking, smart retail, smart hotels, and more.
QNAP's QES operating system is based on the FreeBSD kernel and uses ZFS. The new QES 2.1.0 adds more features such as: QNAP's exclusive Write Coalescing algorithm to optimize all-flash performance in ZFS, software-defined SSD optimization, inline compaction, iSER support, Storage QoS, and other advanced technologies. Demonstrating strengths in high performance, data protection, data reduction, virtualization, and the compatibility with OpenStack cloud environments, QES 2.1.0 delivers a cost-effective, flash-optimized storage solution for enterprise data centers and VDI environments.
QNAP and ULINK have also teamed up to create the Drive Analyzer, an AI engine that predicts the expected life of storage drives - helping to prevent data loss due to unexpected drive failure. Visitors can receive first-hand information about the Drive Analyzer at QNAP's booth.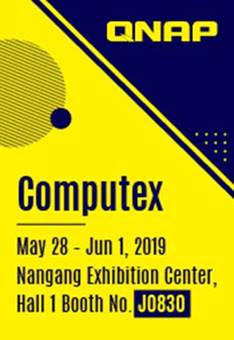 For more information about QNAP products and features, please visit [www.qnap.com]( https://www.qnap.com/).
DIGITIMES' editorial team was not involved in the creation or production of this content. Companies looking to contribute commercial news or press releases are welcome to contact us.