Litemax adopts Intel SDM module to drive revolution in smart IoT industry and meet needs of commercial sphere
Press release
In 2020, Litemax will usher in the second decade. Taking advantage of the strong wings that are built in the field of high-brightness displays and industrial displays, Litemax will fly to a wider world, not only as a supplier of single display devices, but also as an artificial intelligence with display features. The network (AIoT) solution provider provides a new choice of green and intelligent industrial computer solutions to accelerate the realization of smart cities.
Platform integration: Building a smart city using smart applications
The combination of Litemax panels and Intel SDM gives an advantage in the competitive sphere of developing AIoT products. They have the products, such as high brightness monitors and touch panels and the computing hardware with Intel SDM that is ready-for-integration with AI software. These are the new AIoT digital signage displays entering the commercial environment.
A smart city is not just the application of new-generation information technology such as IoT and cloud computing, but is more importantly the building of a new urban ecology characterized by social interaction, unmanned automation and new media platforms, all through innovative AI integration. To take full advantage of advances such as facial recognition, smart bus stop signs and smart shelves, this next generation of digital signage needs to evolve from single-purpose display hardware to integrated digital computers capable of adapting to changing environments and offering rapid maintenance updates. This will be the innovation integrated into digital signage.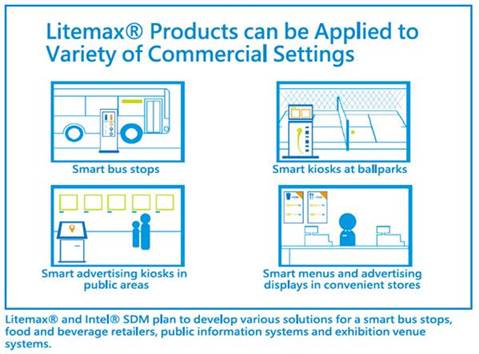 Public display system updates
Commercial Litemax displays with integrated Intel SDM are widely used in public spaces. The compact, slim features of the Intel SDM adapt readily to display mechanisms and meets system integration (SI) requirements. The Intel SDM easily slips in and out of displays to overcome problems associated with assembly and disassembly when updating software and hardware components for timetable systems installed in elevated locations. This accessibility is important since the information systems market is entering a period of rapid expansion and development. Performance is key in information systems such as banking systems where users want accurate, real-time information on mobile payments and balance inquiries. Devices that use the Intel SDM module can be updated on a continuous basis to easily resolve issues as well as to create a better overall experience for businesses and customers.
Using Intel SDM module will help resolve new issues that may arise in the future as display devices will no longer be used only as a medium for delivering visual information; but as an interactive media tailored to individual user.

Smart expansion SDM advertisement system ISDM-5506
In 2018, Litemax has led the industry in the introduction of integrated commercial display products which support Intel SDM specifications and feature the latest built-in computers equipped with 10-point touch capability, high resolution cameras, facial recognition and the newest AI digital signage to replace conventional static LED monitors and displays. Litemax ISDM-5506 features a 1,200-nit high-brightness Max RGB (NTSC 94%), high picture resolution, with WIFI transmission and reception support. This monitor is the next generation of multifunctional, all-in-one digital signage designed for commercial advertising. It is suitable for a broad array of installation locations including offices, gaming arcades and can be used for a range of transportation systems including, subways, train stations, airports and bus stops. This smart signage replaces static displays that only show fixed messages and provide single-directional marketing for the storefront where the display is located. With the smart expansion SDM, advertising systems can play a brief introduction to all the shops in a building as well as share updates on local traffic and transportation. These systems can also be used to support advertising for additional business opportunities.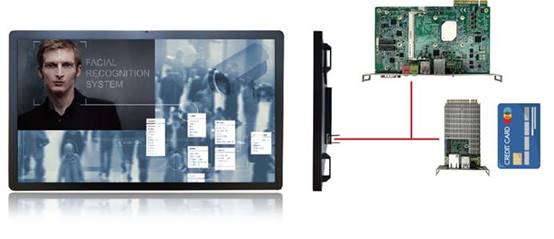 Litemax's Computex booth is at at Nangang Exhibition Hall 1 Booth No.K0309a.
DIGITIMES' editorial team was not involved in the creation or production of this content. Companies looking to contribute commercial news or press releases are welcome to contact us.