Computex Taipei 2019 kicked off Taiwan's 5-day annual ICT extravaganza today! This year, BenQ/Qisda group continues to lead a grand fleet of 10 industry top performers including DFI, Partner Tech, AEWIN Technologies, Aplex Technology, Data Image, Alpha Networks, La Fresh and D8AI to showcase innovative AIoT systems and solutions featuring advanced hardware, software, cloud computing and edge devices all under the theme - "BenQ Intelligent Qube."
Peter Chen, Chairman and President of Qisda, said: "Qisda Corporation has been uniting Taiwan's unsung champions through a grand fleet of alliances since 2014 to bring value-adding solutions to the market. The 6 emphases of BenQ Intelligent Qube each represents a vertical of intelligent solutions and showcases the competence of our strategic partners. By combining technical capabilities of our strategic partners, we hope to improve the diversity and competitiveness of our product portfolio, and set sail BenQ/Qisda's 6 vertical solutions strategy through a coordinated effort."
Similar to a Rubik's Cube, the BenQ/Qisda grand fleet turns and assembles ideas to present the following solutions:
Smart Retail - Optimised manpower and efficiency for a great retail and dining experience
Reservation with AI and next-generation meal delivery
This fully automated restaurant front-end solution is the first of its kind across the restaurant industry in Taiwan. It aims to address the common pain points of the restaurant industry (i.e. high material cost, labor cost, and rent cost with low margin) and integrates online and offline services to provide customers a brand new self-serviced dining experience. Through the integration of hardware, software and AI technology across Qisda, Partner Tech, La Fresh and D8AI, a next-generation food & beverage services solution has emerged.
AI voice robot
The solution incorporates an AI voice robot developed by La Fresh and D8AI that allows customers to make restaurant reservations, a self-serviced KIOSK for meal ordering and payment, a KDS system for order-tracking and preparation at the kitchen, a RFID-based Real Time Locating System (RTLS), and automated tracks for meal delivery. Meanwhile, transactional data is collected and analysed for continuous service quality enhancement and restaurant operation efficiency improvement.
Smart retail experience zone with professional protective gear brand LP SUPPORT
For consumers, the solution offers an intuitive end-to-end shopping experience by incorporating interactive smart shelf that automates product information provision, smart fitting room for consumers to conveniently try on garments "virtually", and smart vending machine for convenient O2O integrated purchasing. For shop owners, the solution offers benefits ranging from inventory management, operational monitoring to promotional contents management.
AIoT "Smart Factory" - Realising human-machine collaboration and low-volume high-diversity production
With conventional factories' struggle to meet the modern production demands, manufacturers are transforming by adopting automated solutions to optimise manpower, improve production efficiency and quality, elevate factory safety, and reduce production cost and downtime through AIoT big data analytics. The BenQ/Qisda grand fleet offers comprehensive AIoT solutions for smart factories in this respect by incorporating the following: DFI's complete product line-up of industrial motherboards and embedded systems, Alpha Networks' 5G private network solution, and AEWIN Technologies' network security offerings.
Furthermore, Qisda's AGV, AMR and smart forklift solutions contribute to the efficiency and safety of an automated logistics system.
3-screen "Smart Digital Boardroom" - Instantaneous issues identification and effective decision-making
Smart Digital Boardroom introduces a 3-screen setup to overcome the misconception that a control center needs to have countless screens displaying information at the same time. According to BenQ/Qisda, 3 touchscreens are all that are needed to display relevant data for timely management and resource coordination. The triple touchscreen solution can also be configured to accommodate multiple layers of management. The solution incorporates an integrated dashboard and active alert system for intuitive and immediate response as well as timely decision-making by controllers and decision makers.
The Smart Digital Boardroom is being presented across a number of scenarios including smart campus, smart hospital and smart energy to demonstrate its versatility in issues identification and decision-making facilitation.
"Interactive Display Wall" featuring proprietary X-Sign software for enhanced display experience
Interactive Display Wall is useful in several exhibition venues such as museum, government building, school, corporate conference hall, car dealer and real estate agency, as it enables users to control the contents being played on a 5x5 video wall for more interactive experience. The solution features X-Sign, BenQ's proprietary content management software that allows users to easily design, manage and replace interactive contents without the need to outsource.
The display wall showcased during this exhibition is powered by DFI's high-performance industrial PC capable of supporting complex multi-screen array applications. The solution uses a powerful yet energy-efficient Intel(r) Core(tm) i7 hexa-core processor to control a 5x5 LCD display array; it supports video output up to 8K resolution for a grand viewing experience.
Featured products: 3Plus2 durability, network security and 5G network
In the Featured Products section, members of the BenQ/Qisda grand fleet will be showcasing durable products with water-proof, shock-proof, explosion-proof, extreme temperature resistance, and corrosion resistance features. Data Image's navigational display operates under extreme weather conditions, and is therefore required to deliver high brightness and high clarity while being able to resist moisture, rain, shock, dust, and saltwater corrosion. Aplex Technology and DFI are showcasing their explosion-proof solutions for industrial PCs operating under hazardous environment, such as oil refinery.
As the network security hardware expert, AEWIN Technologies presents a variety of Network Appliance and Security Hardware Platform models - from entry-level models to high-end servers developed for industry applications - with various NIC modules and via flexible CPU and expansion card/accessory options to meet all networking/security requirements from all kinds of clients. Alpha Networks, on the other hand, will be demonstrating how its "5G private network solution" uses mobile edge computing (MEC) to create a secure, fast and efficient 5G corporate network.
Information about the exhibition
Dates: May 28 - 31 from 9:30 AM to 5:30 PM; June 1 from 9:30 AM to 4:00 PM
Exhibition venue: 4F, Hall 1, Nangang Exhibition Hall (No. 1, Jingmao 2nd Road, Nangang District, Taipei City 115)
Booth No.: L0617a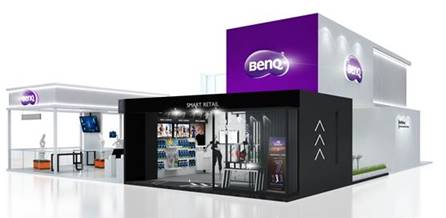 BenQ bring value-adding solutions to the market
DIGITIMES' editorial team was not involved in the creation or production of this content. Companies looking to contribute commercial news or press releases are welcome to contact us.