If data collected from production process can be well concatenated, then problems affecting production efficiency can be quickly spotted through big data analysis, according to Alex Hsu, CEO of TAO Info, a Taiwan startup dedicated to offering data analytics to help manufacturers diagnose their production lines and optimize production process.
In achieving smart production, Hsu said, data collection and analysis is crucial preparatory work, but Taiwan manufacturers still have much room for improvement in this aspect as many of them are just starting to use data analysis for single purpose such as defect image analysis or predictive equipment maintenance.
Hsu stressed that the final purpose of smart production is not to enhance the performance of any single system but to optimize the entire production process and boost yield rates through AI-based analysis of concatenated data.
Hsu, who used to engage in the semiconductor sector, said it is a thorny problem for IC engineers to locate production-affecting factors from among thousands of frontend processes, just like looking for a needle in a haystack. But in analyzing big data, he continued, algorithms can be used to define problems through a huge amount of parameters concerning machinery, material, formula, operator and environment and quickly sort out key factors affecting production in accordance with correlation among the parameters. Such a practice is aimed at narrowing the range of possible factors.
Hsu continued that most AI or neural network analysis technologies can now be applied to deal with correlation rather than the cause-and-effect relation between process parameters and production problems, and therefore his company can use a search engine to sort out the most likely relevant parameters by conducting a correlation-based sequencing of all the parameters, allowing engineers to quickly address problems.
Manufacturers can also incorporate AI to achieve smart product traceability in addition to smart production, Hsu noted, furthering that many consumer electronics vendors including Lenovo, Huawei and Dell have asked their supporting partners to actualize "digital twin" applications, so as to concatenate all the production processes of the entire supply chains.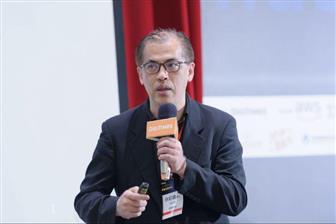 TAO Info CEO Alex Hsu
Photo: Chloe Liao, Digitimes, May 2019