In recent years, digital signage has been widely adopted and surging among retail, restaurants, and advertisement related projects. Central management and monitoring, content designing and distribution, and system reliability and security have been more and more essential for the administrators. It has become a challenge to have the capacity of a full care of the system, and satisfy the needs to strike a sturdy balance between security and efficiency at different branches.
In the light of that, Cayin Technology upgrades its digital signage content management server as the front-runner in the industry. Innovative designs of the CMS software include multi-server architecture, 5-layer group management, and CMS-PRO, the advanced add-on management module.
In this CMS V11.0 software upgrade, one of the highlights goes to "Multi-server Environment Design." Administrators can assign the main server, site server and backup server roles to the CMS structure. The CMS main server centrally controls the whole digital signage deployment as the essential component, while the backup server supports failover upon the failure or abnormal termination of the main server. And, the site server, installed at a branch office or any local site, shares the workload and internet dataflow between servers. Building a multi-server architecture ensures centralized and/or decentralized management, flexible network planning, bandwidth saving, content backup, and non-stop services. It is the best solution for administrators developing a customized network to achieve a stable long-term operation.
The latest version of CMS software also expands digital signage player group management from 2 to 5 layers. This means administrators can now deploy hierarchies exquisitely when supervising large-scale projects and perform segment marketing with flexibilities. If administrators need advanced applications when deploying projects with different scales, CMS-PRO provides them with a more efficient and advanced central management.
CMS-PRO
CMS-PRO is an optional add-on module embedded in a CMS server. The main features of CMS-PRO include efficient access to detailed information of SMP players, time-saving batch configurations, live monitoring of multimedia playback status, and instant alert mechanism. CMS-PRO lets administrators gain thorough control of every digital signage player's settings, updates, and live performances.
If users wish to integrate digital signage servers into their existing corporate systems, CMS V11.0 offers a series of SDKs supporting self-research and development as well.
Cayin's digital signage software, SMP-NEO2 V3.0, was also released recently. Apart from touch screen and multi-touch gesture support that increases interactions, users have the ability to preview or edit the content right from the interface. Moreover, SMP-NEO2 V3.0 adopts artificial intelligence which can tell whether the multimedia files are compatible with the system.
Cayin continues to roll out a range of edge-cutting and powerful digital signage software, players, and content management servers in the year 2019. To keep up with the latest information, please visit Cayin's website at www.cayintech.com.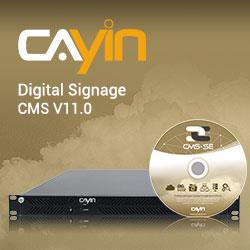 Cayin CMS V11.0
DIGITIMES' editorial team was not involved in the creation or production of this content. Companies looking to contribute commercial news or press releases are welcome to contact us.