Taiwan startup KKStream, a video streaming service consultant affiliated with Taiwanese music streaming service provider KKBOX Group, will leverage AI, big data and cloud computing solutions as well as 4K and 8K applications to offer multiple B2B video streaming services to help clients better grab business opportunities associated with the 2020 Tokyo Olympics, according to company president Eric Tsai.
KKBOX founded KKStream in February 2016 to handle B2B video streaming services launched two year earlier, providing a technology platform to help enterprise clients create video streaming services carrying their own characteristics, with clients including telecom operators, cable TV operators, retail chains, and content providers, Tsai disclosed.
Tsai stressed that his company has developed many AI, big data and cloud computing applications that can help understand music and video preferences of users, recommend music and video programs catering to their needs, and remind them to access the programs on streaming.
In the upcoming 5G era, Tsai continued, KKStream will incorporate VR and AR technologies to launch more innovative video streaming services.
Tsai highlighted his firm's per title encoding service, with AI applied to judge the optimal bit rate in accordance with the complexity of films before being compressed to allow more economical bandwidth for users and provide better film quality.
Tsai said that KKStream hopes to help content providers make direct contacts with consumers, and provide a different access for traditional large-size channel distributors to foray into music and video renting businesses.
Tsai, who used to serve as technical director at KKBOX, stressed that his company is also keen to combine diverse domains to create more values for its services.
KKStream is now an advanced technical partner of Amazon Web Services (AWS), enabling the company to help clients set up their exclusive video streaming services faster by utilizing cloud transmission and storage services offered by AWS, according to Tsai.
Besides the markets in Taiwan and Japan, KKStream will move to promote its business to Southeast Asian countries, which are moving at full throttles to develop smart city infrastructures, showing great growth potentials for video streaming services, Tsai noted.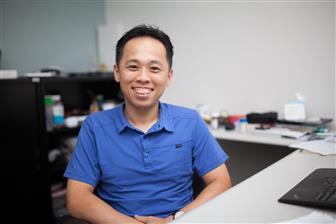 KKStream president Eric Tsai