AI applications can usher in brand-new values for Taiwan's medical sector, given the growing integration of health insurance data and technological resources and improving relationships between doctors and patients, according to Barry Lam, chairman of Quanta Computer, which is actively developing AI-based devices including servers.
But more efforts must be made to address five major issues seen in the integration of AI-based healthcare resources and the development of smart solutions, so that Taiwan's smart healthcare industry can progress smoothly, he said.
The first issue concerns the ownership of healthcare data, including personal data of patients and their medical records. Will such data be owned by hospitals, doctors, patients or the country? Based on current regulations, the data can be provided to a third party only for research purposes. But patient's right to know and own their own medical data emerges as an issue that must be well dealt with, according to Lam.
Then comes the issue of privacy and cybersecurity. Lam said that his company helps enterprises conduct detailed studies in this regard, allowing Taiwan's smart healthcare data to be more systematically collected, stored and analyzed.
The third is the lack of uniform data standards and forms adopted by hospitals, which has made big data integration a difficult job. Lam said the government in Taiwan has yet to work out clear-cut policies for developing innovative technologies and related industries, and the policies are needed to promote uniform data standards and patterns.
The fourth rests with the difficulty in industry-academia cooperation. At the moment, Taiwan's Ministry of Science and Technology (MOST) maintains mainly academic units as its research partners for AI innovations, Lam said, adding that it has been difficult for ITC firms to have more exchange or cooperation with MOST and academic units. He hopes for more opportunities for such exchange and cooperation.
The last problem is that a cross-ministry cooperation mechanism has yet to be established. MOST is now in charge of AI development, but Lam opines that cooperation among more ministries is badly needed to achieve effective combination of AI technologies and professional knowledge of diverse industries. For instance, Lam continued, medical care going smart requires exchanges between the transport and health authorities, and smart transportation needs technology and information support from both the transport ministry and MOST.
Cooperation between doctors and engineers
Taiwan's national health insurance databank, set up in 1995, has been fully digitalized, but what counts more is whether big data collected by major hospitals can be effectively utilized to support AI training, Lam said. He stressed that in the development process for AI healthcare solutions, it is crucial for doctors to record and illustrate symptoms, which can be done through cooperation between many doctors and AI engineers. In this regard, Quanta can help doctors more efficiently handle diagnosis, symptom illustration and data analysis by providing better interfaces, and the company will move to research language input to help further boost diagnosis efficiency.
AI technology development is now a hot topic at both the healthcare end and engineering fields, but it remains to be seen how patients can be convinced that AI can provide accurate analysis and innovative services in the process of medical diagnosis. Lam said AI can first make doctors smart and then patients, meaning that they can all quickly access accurate and diverse medical resources and references.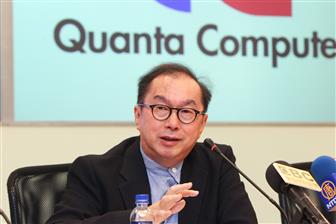 Quanta Computer chairman Barry Lam
Photo: Shihmin Fu, Digitimes, January 2019