Global server shipment forecast and industry analysis, 2019
Betty Shyu, DIGITIMES Research, Taipei
According to Digitimes Research statistics and analyses, Taiwan-based server vendors, including suppliers of motherboards, end systems, storage devices and related network equipment, continue to enjoy growth in 2018. In terms of volume, global server shipments will show continuing growth throughout 2018 and 2019.
Abstract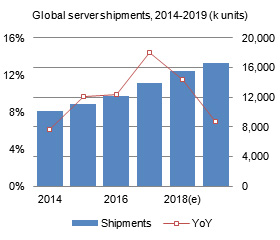 Overall revenues from Taiwan's server sector are expected to rise over 20% on year in 2018 with server shipments increasing over 10% on year, according to Digitimes Research figures. For 2019, Taiwan's server shipments will pick up another 7% on year.
The Wistron Group (Wistron plus Wiwynn) and Quanta Computer have seen increasing revenue contributions from their server businesses in 2018. For Inventec and Foxconn Electronics (Hon Hai Precision Industry), their server revenue proportions are expected to be flat from a year ago.
Mitac has seen the proportion of revenues from the server business slipping. Its server business cover server motherboards, end systems, storage devices and network equipment.
In terms of shipments, Quanta and the Wistron Group are also expected to have on-year growths higher than the others in 2018, followed by Foxconn and Inventec. For 2019, Quanta is expected to perform the best, and the Wistron Group will come in second in terms of growth, according to the figures from Digitimes Research.
Quanta's shipment growth in 2019 will be driven mainly by orders from US-based first-tier datacenter clients and demand from telecommunication equipment suppliers who will begin preparing solutions for the upcoming 5G era. The Wistron Group will see its shipment growths primarily coming from Wiwynn.
Table of contents
Price: NT$60,000 (approx. US$2,000)