MOEA showcases results in helping retail and logistics service sectors innovate
Staff reporter, DIGITIMES, Taipei
The Ministry of Economic Affairs (MOEA) recently held a presentation to showcase its outstanding results in facilitating developments of the retail and logistics sectors at the Taipei International Convention Center (TICC). The event was attended by nearly 550 individual participants and corporate representatives.
According to May Lee, director general, Department of Commerce, MOEA, the ministry keeps a close watch on new developments and trends of the retail and logistics service sectors. The small and medium businesses sectors currently lack the capability of developing or applying technologies by themselves to undergo digital transformation. Moreover, commercial services are going increasingly mobile and international, which presents big challenges for these businesses to deliver precise and prompt services.
As such, MOEA aims to facilitate industrial upgrade and transformation by combining smart technology and creativity to help Taiwan businesses develop innovative services, revolutionize business models and build up competitiveness through differentiation. The event was held for the purpose of demonstrating and sharing the breakthroughs and accomplishments after one year of hard work.
A smart store demonstration jointly developed by Industrial Technology Research Institute (ITRI) and the convenience store chain Hi-Life was also a highlight of the event. The store featured a myriad of smart applications including a face enroll system, self-service coffee machine, self-checkout station, people flow analysis, in-store hotspot detection, electronic shelf label and retail service robots. Visitors could interact with these smart applications and gain a firsthand experience on the convenience and charms of shopping at a store of the future.
In 2018, MOEA has helped more than 80 firms and 8,000 sales locations apply advanced technologies or transition toward smart services. In addition to presenting the results of its campaign, MOEA also hopes that the demonstrations of smart high-tech applications enabled through joint efforts by MOEA and the collaborating firms will inspire and lead Taiwan's service sector to transform toward smartization, engage in innovations and thereby mark a new milestone.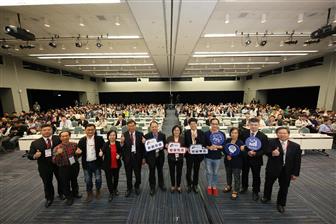 Participants at the 2018 smart business and logistics presentation
Photo: Digitimes staff, December 2018