Misperceptions restraining healthy IoT growth
Jeffrey Lin, Taipei; Willis Ke, DIGITIMES
Global major tech firms including Microsoft, Google, Baidu, Alibaba and Tencent are all aggressively proceeding with IoT deployments, accelerating the popularity of IoT applications and further expanding IoT market scales. But many misperceptions emerging in the process of the IoT development may restrain healthy growth of the IoT industry, according to Digitimes president Colley Hwang.
Hwang made the comments when speaking at the Advantech IoT Co-Creation Summit held in Suzhou, China in early November.
Hwang said that there are more than 500 IoT platforms operating in the market, which, however, has fallen into a chaos because no on is in charge. Businesses are keen to engage in IoT applications, but the herd mentality may result in an overheated market.
IoT advantages have been exaggerated while the difficulties in IoT development have been underestimated, which have prevented some enterprises from successfully developing IoT businesses, he said.
Despite the misconceptions, IoT has actually brought remarkable advantages. For the moment, IoT has been gradually applied to wearable devices, smart living, smart city and smart manufacturing fields, and is expected to play a more crucial role in healthcare, education and logistics sectors, accelerating the technological upgrades at related industries, according to Hwang.
He said that new incomes and better customer services provided by IoT will help simplify operations and reduce operating costs in the sectors of electronics healthcare, industrial production, smart grid, smart home living and smart city applications.
Hwang said that forming alliances will become a key to the success in the IoT era, a direction highlighted by the co-creation concept of Advantech's IoT summit.
Advantech has set it an IoT development goal for 2021 to have over 1,000 member users of its IoT-dedicated WISE-PaaS platform, more than 60 SRP (solution ready package) co-creation partners, and at least 80 domain focus system integrators (DFSI).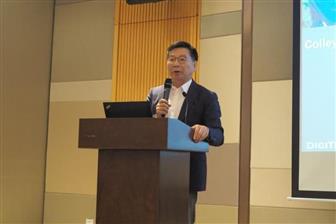 Digitimes president Colley Hwang
Photo: Digitimes, November 2018