AR to serve as automatic city tour guide, says Werold Games executive
Mark Tsai, Taipei; Willis Ke, DIGITIMES
AR (augmented reality) will surely integrate AI and IoT to facilitate wider applications to rehabilitation medicine, city tour guide or cultural promotions, and traditional human tourist guides will be replaced by AR, according to Jaye Chiang, planning director at Werold Game Studio, a Taiwan startup dedicated to developing mobile games.
Chiang said through AR glasses and incorporation of more cultural education content, tourists can better understand local culture history and traditional customs during their city tours and residents can also learn more about the core values of their city.
AR can also be applied to do hand-eye coordination training for babies and medical rehabilitation for the elderly, and the incorporation of such technology can also enhance user adherence and continuity, Chiang continued.
In integrating ecosystems for newly emerging technologies, Chiang said he hopes an AR platform can be established and industry chains can go deeper and wider. He stressed that his company will vertically cooperate with hardware developers and manufacturers and horizontally integrate content designers and technological application partners.
So far, Werold has presented two mobile games: Mokai Adventure AR and Going Down AR. The former, launched in mid-2017, can be downloaded from iOS and Android platforms free of charge, while the latter, released in June 2018, is a somatosensory game developed using Apple's ARKit and also available at both platforms.
Chiang said his company is always committed to the pursuit of diversification of AR technology and new game experience.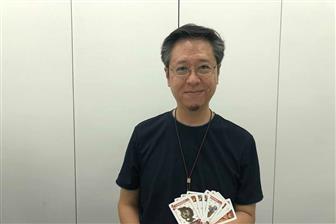 Jaye Chiang, planning director at Werold Game Studio
Photo: Mark Tsai, Digitimes, November 2018