Yvonne Chiu, currently chairwoman of the Information Service Industry Association of Taiwan, has been re-elected as chairwoman for the World Information Technology Service Alliance (WITSA), a consortium of ICT organizations around the world.
The confirmation vote was conducted at WISTA's board of directors meeting in Yerevan City, Armenia, on October 4, 2018.
The focus of ICT industry development is transitioning from PCs and handsets to software innovation, and therefore cooperation across countries and industries is of key in the IoT (Internet of Things) era, Chiu said.
WITSA currently has 83 member countries, 30 of them being in Asia Pacific, 20 in the Americas, 11 in the EU, 11 in non-EU Europe areas, and 11 in Africa. WITSA will make efforts to recruit additional members in emerging markets, especially South Asia, Southeast Asia, Africa and East Europe.
World Congress on Information Technology (WCIT), an annual global ICT meeting organized by WITSA, was held in Taiwan in 2000 and again in 2017, and in India in February 2018. It will take place in Yerevan in 2019 with "Power Decentralization" as a theme, and in Penang, Malaysia in 2020 with "Gateway to Southeast Asia" as its main topic.
The global meeting will take place in Bangladesh in 2021 and probably in South Africa in 2022.
By hosting WCIT in 2000 and 2017, Taiwan's successful development of ICT industries has become a reference for other WITSA members in making ICT policies, Chiu said.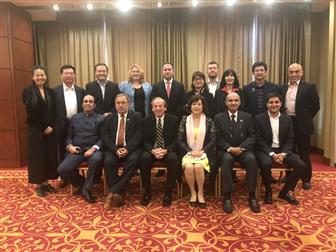 WITSA chairwoman Yvonne Chiu (front, third from right)
Photo: WITSA