Far Eastern Electronic Toll Collection Co. Ltd. ("FETC") announces it was honored the 2017 WITSA Global ICT Excellence Awards - Private Sector Excellence Award at 2017 World Congress on Information Technology (WCIT) held in Taipei.
With 99.97 percent tolling accuracy and 94 percent usage rates, the Multi-Lane Free Flow "eTag ETC system" daily processes 14.5 million transactions in average. It's the largest system in the world using RFID technology for the whole nationwide freeway ETC tolling. The Overall System owns the features requiring an innovative network in realizing digitalization and validation in motor vehicle's identity (eTag as an e-ID), transactions, and locations. With the massively adoption in ETC service and its proven effectiveness and benefits to users, infrastructure and service provider (FETC), the government, and the society, the system has be known in the world arena as one of the most influential Internet of Things (IoT) application moving toward further applications in Smart City.
Chairman of FETC, Douglas Hsu and Managing Director, Dr. YC Chang received the award together at the WITSA award ceremony on 12th evening. Chairman Hsu said, "The eTag ETC system proves that it not only alleviates congestions on nationwide highways but the system and the service provided have laid the foundation of Smart City and led to a wide range of applications in IoT, creating new business opportunities and stimulating new ideas, which echoes the theme of this year's WCIT- Living the Digital Dream."
Chairman Hsu further addressed, "Because the system is so successful, many countries are sending enquiries in order to learn the experiences from us and asking us to help them plan ETC system in their countries."
Dr. James H. Poisant, Secretary General of WITSA said, "Taiwan ETC is such a brilliant System and is also a very successful PPP (Public-Private Partnership) project. Being a private sector, FETC shows efficiency and competency in assisting the government to design, implement and operate the electronic tolling system and services which achieves high KPIs. The socio-economic benefits of the system and services are remarkable. It not only saves the traveling time but also reduces the carbon emission significantly. FETC deserves the award from every aspect."
Since its establishment in 2004, FETC was officially commissioned by the Taiwan government to build and operate the ETC system and associated service operation for nationwide freeway network. In early 2006, FETC successfully launched Single Lane Free Flow (SLFF) ETC operation in 23 toll plazas. Later when RFID-based ETC Technology (eTag ETC) was made available to the general public in 2012, the rapid increase in utilization rate allowed Taiwan Area National Freeway Bureau (TANFB) and FETC to migrate to distance-based and multi-lane free flow (MLFF) ETC in December 30th, 2013. Currently, there are 6.71 million of eTag users and the number is continuously growing. Proven successful in nationwide implementation and operation with high penetration, FETC acts as project delivery partners with public sectors, investment banks, and private concessionaires in Vietnam and Philippines. Now it is partnering collaboration in Malaysia in order to help the country plan and design MLFF and expect to turn existing highways into Smart Highway that may lead to the next wave of digital transformation.
Founded in 1978, the World Information Technology and Services Alliance (WITSA) is a leading consortium of Information and Communications technology (ICT) industry association members from over 80 countries and economies around the world. It has organized Global ICT Excellence Awards to recognize entities that made the most significant contributions to ICT industry and services since 2000. To learn more, please visit: https://www.fetc.net.tw/en/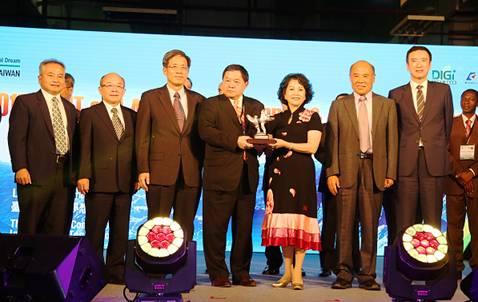 Douglas Hsu (middle), Chairman of FETC, received WITSA Excellence Award at the Award Ceremony
DIGITIMES' editorial team was not involved in the creation or production of this content. Companies looking to contribute commercial news or press releases are welcome to contact us.