ITRI unveils bionic palm with six degrees of freedom
Chloe Liao, Taipei; Willis Ke, DIGITIMES
Taiwan government-funded Industrial Technology Research Institute (ITRI) has newly developed a bionic palm that can catch objects in a more agile way and can be applied to the medical sector as prosthetic hand in the future.
ITRI researchers said that the bionic palm is made of carbon fiber composite that as light as a smartphone. In addition, the palm is designed based on the actual structure of human palms and features six degrees of freedom, able to catch objects like a human palm.
The researchers continued that the driver device of the bionic palm is installed on the back of the palm, which can achieve more natural and comfortable connection with stumped parts.
In order to enhance the catching strength of the bionic palm, ITRI adopts metal connecting rod allowing the palm to catch objects weighing over three kilograms and operate like a hand tool.
The bionic palm can serve as a chucking tool especially for catching irregularly-shaped or soft objects. If coupled with mobile devices, the palm can be used for patrol services at shopping malls and livestock farms, as well as feed loading and unloading operations at product lines, according to the researchers.
They indicated that the bionic palm, first unveiled at the just-concluded Touch Taiwan 2018, is expected to be fitted with smart sensors to serve as a smart prosthetic palm to benefit patients in need of such palms.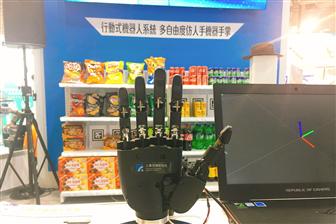 Bionic palm developed by ITRI
Photo: Chloe Liao, Digitimes, August 2018