Zukku, a palm-size service robot selected to guide visitors to the Tokyo Olympic Games 2020, will be introduced to the Taiwan market for use in retail stores, restaurants and service industries, according to CEO Ryota Izawa for Japan-based Hatapro, the developer of the robot.
Looking like an owl, Zukku is equipped with IBM Watson technology and AI (artificial intelligence)-based image recognition to analyze people's ages, sexes and facial expressions. In retail stores, Zukku can recognize customers' personal characteristics and such information can be used to recommend merchandise items on digital signage.
Taiwan will be the first overseas market for Hatapro, Izawa said at Taiwan Automation Intelligence and Robot Show in Taipei during August 29-September 1.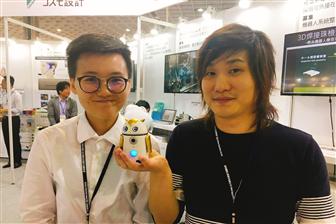 Palm-size service robot Zukku
Photo: Chloe Liao, Digitimes, September 2018