Six startup teams received awards at IDEAS (Innovative DigiTech-Enabled Applications & Services) Show 2018 held by Taiwan's government-sponsored Institute for Information Industry (III) in cooperation with APEC on July 24, according to III.
IDEAS is an annual event for startups around the world to present their innovations in areas including e-commerce, AI (artificial intelligence), big data and VR (virtual reality)/AR (augmented reality). There were 36 startup teams from Taiwan, Vietnam, Peru, the Philippines, Singapore, South Korea and Papua New Guinea attending the event.
The six award winners were Dipp, Uspace and Olis Innovation from Taiwan, Toss Lab and Luxrobo from South Korea, EzQ Company from Vietnam, III said.
Dipp offers a smart platform for automatic production of printed advertising; Uspace integrates smart parking space locks with IoT gateway systems using smartphone app for public parking space sharing; and Olis integrates many convenient tools to hike efficiency in customer management and re-marketing.
Toss Lab offers an instant communication platform to facilitate office communication; Luxrobo runs a platform for teaching IoT programming languages; and EzQ offers a retail platform to enable fast trading among online shopping operators, logistics service provider and consumers.
Vice economics minister Wang Mei-hua, in her speech delivered at IDEAS Show 2018, indicated that Taiwan's law was amended in early July 2018 to remove fund-raising barriers facing startup businesses.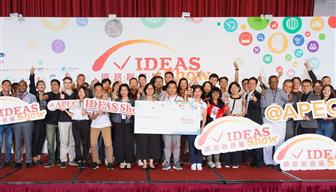 Six startup teams win awards at IDEAS Show 2018
Photo: III