As the information application architectures in today's business sectors are increasingly interconnected, making it difficult for individual enterprises to safeguard their information security alone, Taiwan Mobile has recently launched a so-called "Information Security Cop" service to help enterprises protect their data.
The challenges of information security are evolving rapidly under current hybrid environments where information networks of most businesses are connected with those networks of cloud service providers, suppliers, subcontractors and clients for information sharing, and therefore have made their networks vulnerable to attacks, according to TY Hsu, manager of enterprise integrated service department at Taiwan Mobile.
The Information Security Cop protection solutions, which are co-developed with a number of international solution providers, are designed to provide effective all-in-one measures to protect corporate information from the cloud to devices against malware attacks such as Distributed Denial-of-Service (DDoS), Hsu said.
Hsu continued that the previous model for the deployment of information security protection is to budget and purchase a protective solution or device for a single functional requirement such as for firewall, IPS, UTM and other systems. But current security situation is more complex that requires a set of technology to give effective protection from DDoS, APT (Advanced Persistent Threat) and other malwares.
Also, under today's mainstream hybrid environments, the existing technologies like edge firewalls and VPNs are insufficient to secure complex multiple environments, Taiwan Mobile has also adopted Zentera Systems' CoIP Security Enclave products to enhance the capability of its security cop solutions, Hsu added.
Taiwan Mobile has established a carrier-class backbone defense service architecture that can fend off DDoS attacks in large traffic, and additionally, Arbor APS (Availability Protection System) DDoS mitigation technology is also being adopted by its backbone networks to implement detailed protection against application layer attacks.
Taiwan Mobile can also help build and manage UTM and other basic protective solutions for the core networks of its business clients, allowing them to build up necessary information protection without one-time large capital expenditure. Besides, Taiwan Mobile's Information Security Cop service team can also render assistant to help clients monitor and maintain these basic protective systems.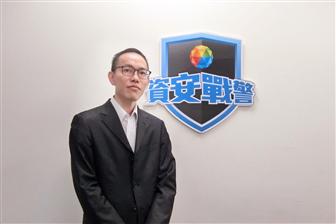 TY Hsu, manager of enterprise integrated service department at Taiwan Mobile
Photo: Digitimes file photo