Low power consumption, high stability key to 5G IoT devices, says Macronix manager
Ethan Chen, Taipei; Willis Ke, DIGITIMES
IoT applications will see brand-new development after 5G technologies and applications enter commercial runs in 2019, and all IoT devices must feature low power consumption and high stability to secure smooth operations in diverse environments. In line with the trend, Taiwan's memory supplier Macronix International has rolled out the cutting-edge 1.2V MX25S SPI NOR series to meet the market demand, according to the firm's senior marketing manager HJ Kuo.
Macronix's 1.2V MX25S SPI NOR series boasts extremely low power consumption, consuming only 0.007uA in the state of deep power down, compared to power consumption of 0.2uA for 1.8V and 3uA for 3V. In addition, under the operating mode, power consumption runs only one tenth that of 1.8V, according to Kuo.
Kuo said that unlike 2G to 4G applications featuring transmission of voices, images and various data mainly through smartphones, 5G will allow telecom operators to extend services to a variety of new areas beyond smartphones through its features including high speed transmission, high coverage rate and low latency.
She continued that 5G IoT will make everything in the world become "smart X," expanding from man-man and man-things linkages to things-things connections and finally building the architectures of smart cities, with big data generated to be developed into more digitalized application services.
In terms of system equipment needed to support 5G IoT applications, power-saving, miniaturization and high quality will be the top three concerns for equipment makers in seeking supply chain partners. The requirements are also applicable to relevant memory solutions, Kuo indicated.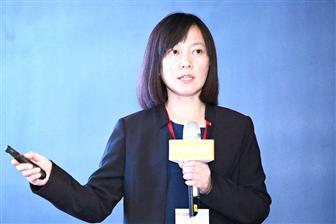 HJ Kuo, senior marketing manager at Macronix International
Photo: Digitimes file photo