Tech firms must learn more about the characteristics of the medical care industry before they set foot on the smart healthcare field with their solutions, otherwise they may fail fast, according to Wang Ming-jiuh, visiting professor at the Department of Anaesthesiology, National Taiwan University Hospital (NTUH).
Wang said that before supplying smart healthcare solutions to hospitals, tech firms should send engineers for deep communications with nurses to learn the actual needs of users, as nurses know best what their patients need. Without sufficient communications, Wang stressed, tech firms can hardly work out smart healthcare solutions meeting exact requirements of hospitals.
Citing an example to explain the importance of the bilateral communications, Wang, who was once responsible for building a cardiovascular center at NTUH, said that soon after the center was inaugurated, some ICU (intensive care unit) nurses conveyed to him complaints from patients about an intermittent supply of hot water when taking a shower.
Wang continued that the engineering team in charge told him later that they used almost the same engineering layout for cold-water and hot-water pipelines as adopted at general hotels, citing their assumption that for a 30-bed ICU ward, only 30% of the patients would take a bath at the same time, as experienced at hotels.
But the assumption was wrong, Wang said, as an ICU ward is unlike a hotel or a general ward allowing flexbile shower time. He added that nurses usually help every ICU patient with a bath during the morning care at 8:00-9:00 a.m. before rendering other care services to the patients.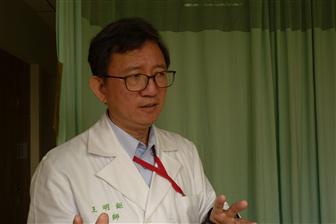 NTUH professor Wang Ming-jiuh
Photo: Vega Chiu, Digitimes, June 2018