Mavin Inc, who won the German iF Design Award, the Red Dot Design Award and the CES Innovation Product Design Award, has announced their latest true wireless earbuds recently.
With close support from Qualcomm Technologies International, Ltd, Mavin has successfully developed the Air-X, with up to 10 hours of play time (up to 50 hours with pocket-size charging case, 10 minutes quick charge for 1-hour play time) in a super light-weight design that weighs less than 4.5g per earbud.
The Mavin Air-X earbuds are powered by the latest Qualcomm low-power Bluetooth Audio SoC, QCC3026 (a more cost-effective option than Qualcomm's QCC5100 series SoC, which it announced earlier in the year at CES), which supports Bluetooth 5 and, Qualcomm atpX audio technology. Air-X also features voice assistant (Siri, Google), call audio in both ears, Qualcomm cVc noise reduction technology and built-in ANC (Active Noise Cancellation, Air-XN model only) to support crystal clear voice call quality and premium audio experience to users. More importantly, Mavin has solved one of the most common problems that consumers encounter with their wireless headsets, earphones and earbuds, the distance and angle of transmission between the playback devices. A patented antenna design provides a long and wide-range signal reception designed to enable highly reliable wireless connection from pocket to ear and ear to ear. Mavin has also designed an ergonomic stabilizer and ear tips to secure Air-X into ears and provide the comfortable wearing experience all day long.
In addition, Air-X also implements Qualcomm TrueWireless Stereo Plus, which is designed to eliminate the need for cross-head Bluetooth transmission by simultaneously connecting the mobile device to both earbuds. When paired with Air-X and the Qualcomm Snapdragon 845 Mobile Platform, Qualcomm TrueWireless Stereo Plus can help to reduce power consumption by up to an additional 10%. Additionally, Qualcomm TrueWireless Stereo Plus supports an even simpler pairing experience when connecting earbuds to the mobile device and helps to reduce latency because both buds are connected directly to the smartphone.
Anthony Murray, senior vice president and general manager, Qualcomm Technologies International, Ltd, said, "We are pleased to have worked so closely with Mavin to help them integrate our latest low-power Bluetooth audio SoC into their Air-X earbuds. This breakthrough platform combines Qualcomm TrueWireless Stereo, Qualcomm aptX audio and Qualcomm cVc noise reduction technology to help meet increasing consumer demand for superior audio quality while also supporting significantly extended battery life and playback time."
"We understand the users need the true wireless earbuds with compact size for comfort fit, long battery life, stable Bluetooth connection, very low latency and good sound quality. That is why we developed with Qualcomm next generation TrueWireless Stereo technology. Air-X is the perfect answer to the music lovers need for all-day use earbuds. You are going to love it once you have owned it!" said CEO of Mavin Inc.
Pre-order and more information, please visit www.mavinlife.com.
Mavin Inc. the most innovative company founded in USA California dedicated in wireless and digital audio appliance to provide breakthrough products and technology to global market, "We invest endless effort to make the improvement for products and satisfy our customer".
Qualcomm is a trademark of Qualcomm Incorporated, registered in the United States and other countries. Qualcomm TrueWireless, aptX and cVc are trademarks of Qualcomm Incorporated.
Qualcomm TrueWireless, Qualcomm aptX and Qualcomm cVc are products of Qualcomm Technologies, Inc and/or its subsidiaries.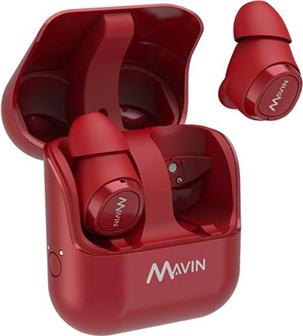 Mavin Air-X 1st 10-hour mini earbuds supported by Qualcomm TrueWireless Stereo technology
DIGITIMES' editorial team was not involved in the creation or production of this content. Companies looking to contribute commercial news or press releases are welcome to contact us.