Clientron Corp, a global leading provider of thin client, POS and embedded systems, is introducing its latest products with multiple innovations at Computex 2018. The products demonstration of various industrial applications include embedded IPCs for food processing industry, the streamlined thin clients in banking scenario, and POS terminals for restaurant setting solution. The complete product series of Clientron thin client, POS terminal, and embedded IPCs are on exhibit at booth K0427a at Taipei Nangang Exhibition Hall 1.
Seizing the trend of IoT and Industry 4.0, Clientron is ramping up efforts toward IPC product development and market expansion. Kelly Wu, president & CEO, Clientron, stated, "Taiwan-based manufacturers have been active in the IPC market for many years. IPC firms are characterized by being small but exquisite. Clientron, with years of embedded product design, production, and service offering experiences, is capable of providing high-end industrial-grade products with wide temperature and voltage ranges, waterproof and dustproof as well as ability to maintain long-term operation under extreme circumstances."
For the IPC product line, Clientron introduces its brand new products including single board computers (SBC), embedded systems and industrial panel PCs to accommodate different customers and vertical market demand. At the show, Clientron's Pike-AL-1500SP, crafted specifically for the food processing industry, is an industrial panel PC offering IP69K protection against high temperature and dust. The Pike-AL-1500SP has passed spray test with steam pressure of 100bar (1450 psi) at a temperature of 80 degrees C. It is built with grade 304 stainless steel casing to enable protection against heat and corrosion and prevent hazardous substances from leaching due to heat or acid, thereby guaranteeing safe and sanitary operation in a food processing plant. For factory automation and parking solution, the Mace-AL-200 embedded system provides "Tsuba Kits" with a flexible modular design for customers to easily add I/O modules and build systems tailored to their specific needs.
In terms of Clientron's most renowned thin client product line, Clientron is showcasing a complete lineup of thin clients from entry-level, mid-range, high-end and up to high performance IP40 industry thin clients. Clientron debuts several new thin client models including the cost-effective S-cube Pi3 B+, running on Raspberry Pi3 B+ platform with ultra-lightweight 0.18L volume, and ultra-low power operation below 3W on average. The S-cube Pi3 B+ thin client supports the most used of the connection protocols, including RDP, HDX, and VMware Horizon. It has one HDMI display, WiFi and Bluetooth wireless connectivity, and is suitable for education, financial counter, and the markets require simple task. For the mainstream thin client segment, Clientron's brand new S810, is equipped with Intel's next-generation Gemini Lake Celeron power-efficient quad-core processor, providing dual display outputs, M.2 high-speed interface, and supporting innovative POF (Port-on-Foot) I/O expansion ports for more easily and flexibly expand to meet different field and application requirements. For high-end and flexible thin clients, the F620 features 4K definition and supports up to quad displays to meet the requirements of the healthcare and multimedia sectors. In addition to stand-alone thin clients, Clientron provides a new generation of all-in-one thin client TC220 with 21.5-inch capacitive multi-touch, and also uses Intel's new generation Gemini Lake Celeron quad-core processor, which targets at medical care solution, financial markets and more applications. Furthermore, Clientron is displaying its entire POS product portfolio. For all-in-one POS terminals, Clientron is presenting PST650 suited for the food service industry. The PST650 features streamline, compact and lightweight design and built-in thermal printer integration supporting multiple well-known printer models, saving counter footprint and cost. Another focus on the show is the PT2000 POS terminal, aiming at cost-effective product segment with valuable benefits supporting multiple peripheral solutions to enhance user experience. Also at the show are a variety of the extended POS peripherals.
Meanwhile, Clientron is exhibiting multiple innovative products, of which the R800 thin client was recently recognized with the 26th Taiwan Excellence Award. The Bello, Wing, Ares series of fanless multi-functional POS terminals also have won the Taiwan Excellence Award. There are also newly introduced embedded IPCs to highlight Clientron's capability of meeting the needs of multiple customers with a high-quality, complete product line.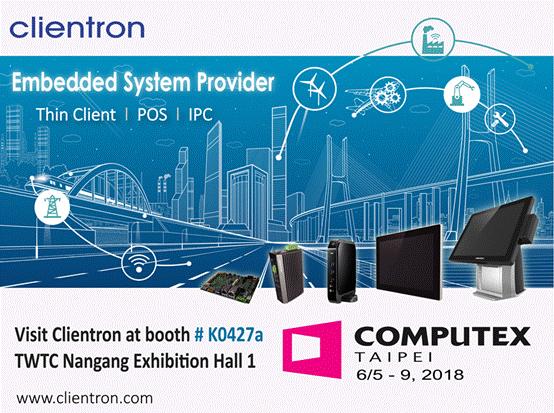 Clientron showcasing its IPC products at Computex
DIGITIMES' editorial team was not involved in the creation or production of this content. Companies looking to contribute commercial news or press releases are welcome to contact us.