An exclusive interview with Kelly Wu, president & CEO, Clientron
Sponsored content
Clientron, a world-leading provider of thin clients and embedded systems, established its industrial PC (IPC) team in 2017, demonstrating its determination to penetrate deep into the IPC market. Clientron has always been able to provide product designs that precisely match customer needs and now riding on burgeoning IoT and Industry 4.0 trends, Clientron is ramping up efforts toward IPC product development and market expansion.
Kelly Wu, president & CEO, Clientron, states, "Taiwan-based manufacturers have been active in the IPC market for many years. IPC firms are characterized by being small but exquisite. Clientron, with years of product R&D experiences, is capable of providing high-end industrial-grade products with wide temperature and voltage ranges, waterproof and dustproof as well as ability to maintain long-term operation under extreme circumstances." Clientron has introduced embedded single board computers (SBC), embedded systems and industrial panel PC to accommodate different customer needs.
Expanding vertical industrial applications
IPC has always targeted niche market segments. Clientron's endeavors in this field began with the food processing industry and smart transportation applications. Clientron's Pike-AL-1500SP, crafted specifically for the food processing industry, is an industrial panel PC that can withstand special cleaning or a steaming environment. It offers IP69K protection against high temperature, dust and water and long-term submersion under water. The Pike-AL-1500SP has passed spray test with steam pressure of 100bar (1450 psi) at a temperature of 80°C. It is built with grade 304 stainless steel casing to enable protection against heat and corrosion and prevent hazardous substances from leaching due to heat or acid, thereby guaranteeing safe and sanitary operation in a food processing plant.
For smart transportation, Clientron custom-built its IT900 embedded system for intelligent traffic decision making. It co-worked with customers to design applications such as smart intersection and smart parking solutions. With aluminum alloy casing, fanless & ventless design and IP40 dust-proof protection, the IT900 is suitable for murky outdoor environments with a reduced probability of failure or repair. It supports dual display ports and dual LAN ports and is powered by an Intel high-performance energy-efficient quad-core or dual-core platform. Its modular I/O box can quickly and flexibly accommodate customer's I/O design based on actual needs. The innovative drawer-type casing also allows easier hardware installation and expansion by its user friendly design
Clientron drew naming inspiration from cold weapons for its industrial-use products to represent symbolic meaning of simplicity, user friendly and combat strength. For example, its industrial panel PC is named as "Pike," innovative box type embedded systems as "Mace" and SBC as "Saber." Its Mace-AL-200 embedded system provides "Tsuba Kits" with a flexible modular design for customers to easily add I/O modules and build systems tailored to their specific needs. On top of that, the removable back cover makes maintenance work a breeze.
Clientron keeps turning innovative designs into reality
For point-of-sale (POS) terminals, Clientron presents PST650 all-in-one POS suited for the food service industry. PST650 features streamline, compact and lightweight design and built-in integration with a thermal printer supporting multiple well-known brands, so customers do not need to install an additional printer, thereby saving counter footprint and cost.
Among Clientron's most renowned thin client product line, the R800 was recently recognized with the 26th Taiwan Excellence Award. It comes with an innovative rotatable port-on-foot design with I/O expansion ports, enabling both space saving and I/O expandability advantages. Its high-durability capacitive-touch power button provides convenient on/off switch and reduces mechanical failure. Featuring support for triple 4K ultra-high-definition (UHD) displays, energy-efficiency design translating to savings on electricity bills and a three-year standard warranty, the R800 is especially suitable for virtual desktop solutions in banking, healthcare, government and education sectors.
Clientron is making leaping advances in automotive electronics
Looking forward, Wu speaks about Clientron's achievements in the automotive electronics market: "Clientron has been dedicating its time and efforts in this segment for many years and actually obtained ISO/ TS16949 certification as early as 2004. With a focus on Car Informatic Device (CID), we leveraged nearly 20 years of design and manufacturing experiences in automotive video and audio systems and worked with customers to jointly craft ' Interactive in three displays, one instrument with ADAS' software and hardware integrated solutions. This is a big step forward for us in the factory-installed equipment market." Three displays here refer to the CID system, driver instrument cluster and digital insole cluster. One instrument refers to the car recorder. They work in conjunction with the advanced driver assistance system (ADAS) in the vehicle.
Furthermore, it should be noted that a major customer of Clientron has engaged in large-scale expansion in the American market, which is expected to fuel Clientron's revenue growth in the region this year. With the inauguration of a new factory in Nangang, Clientron will be able to fully meet growing market demand.
Clientron plans to showcase its latest thin client series, POS systems and embedded IPC solutions at Computex 2018. Visitors to Clientron's booth K0427a in Taipei Nangang Exhibition Center will be able to see Clientron products being put to use in different scenarios, including an embedded IPC in food processing industry, thin clients in banking scenario and a POS system in a restaurant setting.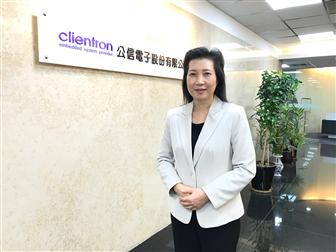 Kelly Wu, president & CEO, Clientron, states that the company will keep ramping up efforts toward IPC products in 2018.
DIGITIMES' editorial team was not involved in the creation or production of this content. Companies looking to contribute commercial news or press releases are welcome to contact us.