Clientron Corp., a global leading provider of thin client, POS, and embedded systems, is pleased to announce that the R800 thin client has won a "Taiwan Excellence 2018" award for its innovation and best quality design, which makes it stand out from numerous products as the best choice for virtual desktop solutions. Recipients of the awards were selected from more than 1,200 products produced by 578 companies based on the following five key indicators: R&D, Design, Quality, Marketing, and Made-in-Taiwan.
On top of excellent quality and innovate design, the R800 thin client features a reliable embedded platform, and durability with a capacitive-touch power button for switching on/off the system without a mechanical part. To enable flexible expansion, the R800 offers 4K ultra-high-definition (UHD), supporting triple displays with two DisplayPorts and one HDMI port. In addition, the R800 features an innovative rotating ports-on-foot design with two built-in USB ports for expansion. Moreover, the R800 supports optional PoE+ modules to provide up to 25W of power for the device and also offers optional TPM 2.0 modules that are critical to providing a secure computing environment.
"Clientron has been focusing on vertical integration industries for years to make a win-win situation for our customers. We are the leading thin client provider and the award-winning R800 thin client also affirmed Clientron's innovative design in virtual desktops solution. The R800 thin client features ultra-compact design with stylish enclosure, and flexible system design for user experience enhancement that is the main reason why it has been awarded," said Kelly Wu, the President & CEO of Clientron Corp.
Clientron will utilize its experience and know-how in professional embedded platform design, as well as agile manufacturing abilities and quick service support to constantly expand its presence through vertical integration of different industries, and provide clients from various fields with the best solutions for smart embedded platforms
The R800 is a high-performance and flexible thin client which can be adopted for banking, government, education and medical care solutions. For more product details, please contact Clientron's sales team or visit our website www.clientron.com.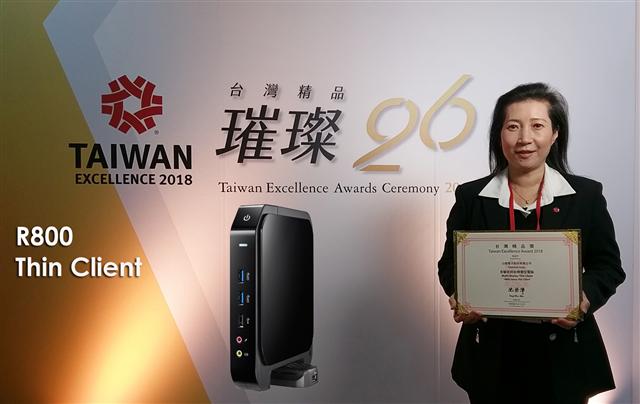 Kelly Wu, the President & CEO of Clientron, attended the 26th Taiwan Excellence Award Ceremony