Seco will take part in Computex Taipei 2018, the most significant B2B tech show in the whole of Asia as well as the leading global ICT and IoT-centric event with a complete supply chain and ecosystem.
The event is organized by the Taiwan External Trade Development Council (TAITRA) together with the Taipei Computer Association (TCA). Each year, the event gathers tens of thousands of visitors from all over the world as well as a flourishing community of startups in the field of embedded computing, semiconductors and the Internet of Things.
Seco will showcase a comprehensive range of products at Nangang Exhibition Hall 1, booth No K0102, focused around Seco's cross-platform philosophy and its modular solutions with embedded system form factor standards (Qseven, COM Express, SMARC).
Among the many Qseven-based solutions to be presented, the Q7-C26 stands out as a Qseven Rel. 2.1 compliant module with the NXP i.MX 8 application processors. Characterized for its rich M2M interface for managing onboard subsystem as well as the wide connectivity it provides, this solution builds upon the ample scalability granted by the Qseven form factor and the i.MX 8 family. Finally, it distinguishes itself for its high-end multimedia capabilities and, for the cherry on top, it comes up with an integrated GPU which supports up to 2 independent displays. The RAM consists in a soldered down LPDDR4-3200 memory.
Still in the realm of Qseven-based solutions, another interesting module based on the same CPU that Seco will present is the Q7-C25. Unlike the Q7-C26, it also enables multicore processing - namely, a dual or quad ARM Cortex-A53 cores general purpose Cortex-M4 processor for real-time applications, combined with a 4Kp60 HEVC decoding with HDR. Built with scalability in mind, it is suitable for contexts such as home automation and vending machines, that is, scenarios requiring advanced security, connectivity and multimedia. Like the Q7-C26 it is designed for industrial-range temperatures (-40 degree C, +85 degree C) and, same as the Q7-C26, it mounts an integrated GPU supporting up to 2 independent displays. As far as the RAM is concerned, it features up to 4GB soldered down LPDDR4-3200 memory.
Speaking of SMARC modules, the SM-B71 is a SMARC Rel. 2.0 compliant module with the Xilinx Zynq Ultrascale MPSoC. Unique for its blending of the ARM and FPGA domains, it delivers a flexible ARM FPGA heterogeneous processing in a standard form factor, merging the cost-effective Dual-Core to high-performance Quad-Core ARM Cortex-A53 MPSoCs with GPU/VCU, granting therefore extreme flexibility and vast scalability as well. Finally, it presents a set of dedicated Real-Time ARM Cortex-R5 processors, together with LVDS and DP video interfaces that go up to 4K resolution, and high-speed interfaces. The module is available in the indicative temperature range of -40 degree C up to +85 degree C. In terms of graphics, it mounts an integrated ARM Mali-400 MP2 GPU. As far as the RAM is concerned, it provides up to 8GB DDR4 soldered down.
As regards the COM Express solutions, the COMe-C08-BT6 is a COM Express 3.0 Basic Type 6 Module with the Intel 8th generation Core i7 / i5 / Xeon processors (formerly Coffee Lake H). Most notably, it features up to six cores with Intel Hyper-Threading Technology, with the possibility of adding 12 virtual cores, hitting in this manner a maximum of 12 threads. Thanks to the Intel Gen9 LP graphics core architecture, the module can drive up to 3 independent displays simultaneously, with a resolution of 4096x2304 @60Hz, 24bpp tops. Worth mentioning, it also embeds an H.265 / HEVC hardware transcoder which, in combination with the astonishing performance and the multiple video interfaces supported, turns the module into the epitomic platform for gaming, digital signage, HMI, and infotainment. Speaking of the graphics, it mounts an Intel Gen9 LP graphics core architecture - up to 48 execution units.
Furthermore, the RAM is a DDR4 with ECC technology, up to 2666 MHz. Interestingly, Seco will also showcase a COM Express solution based on AMD technology, namely the COMe-B75-CT6, i.e. a COM Express Compact 3.0 Type 6 Module with the AMD Ryzen Embedded V1000 processors. Depending on the model that has been chosen, it embeds a maximum of 4 Zen x86 CPU cores, a next-generation technology integrated with the latest Radeon graphics and I/O controller on a single chip. It also features up to a couple of DDR4 SO-DIMM Slots supporting DDR4-3200 ECC Memory, not to mention a vast array of expansion ports, PCI-Express, Serial Ports, networking and video interfaces. All things considered, it is the ideal solution for medical devices, digital signage and gaming.
Last but not least, Seco will also showcase at its booth, together with its educational arm, Seco Lab, its newest creation in the domain of DIY electronics and open-source hardware: the upcoming new UDOO, a maker-oriented single-board computer combined with an Arduino-compatible platform for sensing and programming the physical world. The solution is the latest addition to the UDOO family, a set of SBCs that made a name for itself on Kickstarter and is now used by tens of thousands of users all over the world, including universities and marquee research groups such as CERN. Worth noting, the newest UDOO provides an outstanding computational power, which comes in handy for applications like Computer Vision, Virtual Reality, Augmented Reality, client-side 3D rendering and real-time analysis of big data.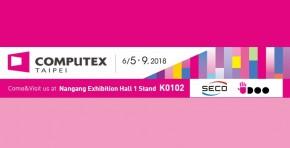 Seco to demonstrate new cross-platform solutions and UDOO boards at Computex 2018
DIGITIMES' editorial team was not involved in the creation or production of this content. Companies looking to contribute commercial news or press releases are welcome to contact us.