Smart vibration monitoring solution brings intelligence to CNC machining to maximize profits
Press release
As portable phones continue to evolve functionally, their physical appearance has changed commensurately, with plastic body shells giving way to slim and lightweight metal casings. Despite its appeal to consumers, the sleek design adds to complexity of the manufacturing process, with cutting and machining of the casing demanding extreme precision, where even slight deviations can result in scrapped work pieces, eroding profit margins.
It is necessary to frequently change cutting tools so that the CNC equipment can maintain a constant yield rate. However, this runs up machinery supply costs, affecting profit margins. Furthermore, equipment availability is of utmost importance to phone case manufacturers, with sudden CNC machine failures compromising productivity and delaying delivery. This chain of events can decrease customer satisfaction and, commensurately, the operator's reputation. Manufacturers thus not only allocate human resources to conduct regular checks but also engage third-parties to back up maintenance support. Such passive approaches, however, provide only limited levels of prompt and effective response in the event of equipment failure.
The manufacturing process of phone cases is one scenario where CNC equipment is used. With CNC cutting being used in a wide range of processing operations, manufacturers across diverse sectors all attempt to address the same CNC machining challenge in order to stay profitable.
Manager Louis Hsu of ADLINK's Measurement and Automation product segment, submits that, alternatively, monitoring cutting operations during process, particularly vibration activity thereof, can directly address the root of the problem, whether to increase machining precision or boost equipment availability. This is mainly because, once problems such as imbalance, resonance, or misalignment increase machine vibration beyond an acceptable range, equipment may not be able to continue normal operation and malfunction or even failure can result.
By capturing even minor vibration signals, a PC-based monitoring solution surpasses PLC solutions
When CNC machinery incorporates constantly running vibration monitoring, equipment conditions are readily available, increasing intelligence of the operation. No longer being forced to wait until production is completed to determine the cause of problems, they can conduct preventive inspections to instantly detect equipment irregularity as it starts and promptly take responsive actions. Slight deviations can be resolved in no time by adjusting process parameters (e.g. modifying spindle speed) or changing cutting tools to ward off potential future disasters.
Vibration monitoring of CNC machinery is far from a new concept, with PLC solutions featuring plug-and-play simplicity and convenience working with CNC equipment in the field for some time. As such, the need for PC-based vibration monitoring over existing PLC solutions may be questioned.
Even so, considering that some minor vibration or high frequency signals can actually indicate distinct problems, such as when a connector begins to lose balance, a spindle ball bearing may have developed a crack, affecting dynamic performance, or a fastener is coming loose. In such instances, the CNC machine's exhibiting signs of "illness", the specific nature of which can be identified by specific behaviors due to different machine characteristics, can be difficult for PLC solutions, with low sampling rate, limited frequency range, and fixed algorithms, to detect. If a CNC monitoring solution can be fully cognizant of such minor indicators, it will allow users to instantly be made aware of critical issues that can result in a decrease in precision or productivity, so that they can execute timely responses.
Accordingly, ADLINK has developed the MCM-100, highlighting around-the-clock continuous data collection and vibration measurement with maximized precision and sampling rates for rotating machinery and equipment. Combining data collection, vibration analysis algorithms, computation and network connection in one system, the MCM-100 not only allows users (process manufacturers) to overcome challenges in traditional cutting process but also presents the most streamlined approach to increased connectivity in CNC machinery.
Preventive maintenance achieved through high-precision monitoring works wonders
Hsu explains that there are generally three scenarios where process manufacturers can make good use of monitoring solutions on their CNC equipment. In spindle vibration detection, RMS values of time domain signals are measured. If the values are found to exceed a predetermined threshold, the spindle will be decelerated or stopped. The second, bearing quality diagnostics, assess bearing health when the CNC machine is not performing cutting but only idling at a high speed. Finally, spindle collision detection watches for spindle collisions by checking vibration waveforms against certain predefined conditions. If a match is found, it is determined that a collision has occurred and the spindle is stopped immediately.
Monitoring efficacy in the first and second scenarios is closely related to the precision and frequency range of the vibration signals. PLC solutions, able to collect only a limited amount of information, are of little help to users in emergency response planning. In contrast, the MCM-100 not only features 24-bit high definition (as opposed to conventional solutions with 12-bit to 16-bit) but also captures high-frequency signals at a very high 128kS/s, compared to the conventional solutions' 20KS/s or lower, delivering significantly more vibration data for analysis.
New opportunities for CNC machinery suppliers
Vibration monitoring of CNC cutting also creates new opportunities for CNC machinery suppliers. The abundant vibration data combined with Big Data analytics allow CNC machinery suppliers to gain more in-depth correlation between signal changes and machine malfunction, whereby they can leverage the accumulated knowledge to create value-added services, possibly allowing a shift in business model from making one-time sales to charging by machine uptime, thereby sustaining long-term profitability.
According to ADLINK, with multiple deployments of vibration monitoring solutions by well-known CNC machinery suppliers coming into place, market demand for such solutions is on the rise with the year 2017 presenting particularly prominent growth. Clearly, both process manufacturers and CNC machinery suppliers are demonstrating increasing demand for solutions addressing vibration monitoring of CNC cutting equipment.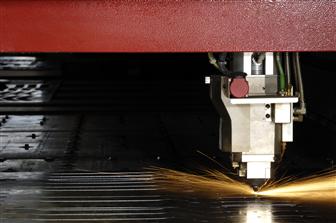 Vibration monitoring of CNC cutting creates new opportunities for CNC machinery suppliers
DIGITIMES' editorial team was not involved in the creation or production of this content. Companies looking to contribute commercial news or press releases are welcome to contact us.