Offering compatible one-stop SMT solution from motion, vision to I/O control enables minimize risks and maximize yields
Press release
There is no doubt that surface mount technologies (SMT) have been instrumental in the development of the electronics manufacturing industry. Every step carried out during the SMT process, including glue dispensing, coating, solder paste inspection (SPI) and automated optical inspection (AOI), plays a critical role in the successful production of each device. Any machine malfunction or component failure could result in poor performance or even a production halt. In either case, the consequences are unacceptable to equipment suppliers and end users.
Each step of the SMT process, from PCB printing, SPI, component mounting, reflow, to AOI, imposes different automation control requirements. During the printing stage, motion control cards are used to precisely control the movement of spray nozzles. Image recognition systems can check if solder paste has been properly coated according to standards during SPI. In the case of any anomalies, an alert in the form of DIO or M2M messages can be sent to data centers for analysis. For component placement, automation equipment is also used to control pre-heating, temperature, and reflow procedures. Image data collected during AOI need to be transmitted at a high speed without errors, which calls for image recognition systems with flexibility. These interconnected steps are all essential for an SMT process to be properly conducted.
A well-known machinery supplier based in China that focuses mainly on developing SMT equipment incorporating with industrial PCs (IPC), motion control cards and image control systems from different manufacturers, had encountered serious compatibility problems. Its production line was constantly plagued by minor failures such as machines getting stuck or screens going blank. The production was hit particularly hard by failures during AOI, which demands a high degree of precision. To overcome such reliability issues, the supplier decided to replace the IPC - the brain of industrial automation - and other critical components including motion control cards, image control systems, I/O interface and Fieldbus components all at once.
Designed with usability in mind, compatible one-stop SMT solutions satisfy customer requirements
ADLINK proposed two solutions that addressed the customer's two major challenges - smooth operation along the production line and high equipment reliability. First, ADLINK recommended the use of the IMB-M43H industrial-grade ATX motherboard, powered by a 6th generation Intel Core processor, supporting Windows 7. This would provide both forward and backward compatibility with current automation software as well as legacy PS/2, COM and VGA I/O ports to enable a painless upgrade process for existing systems. For motion and I/O control, the IMB-M43H has one PCI Express x16 Gen3, one PCI Express x4 Gen2 and five PCI expansion slots for users to flexibly add image capture cards, digitizers, high-resolution dynamic signal acquisition modules or general-purpose modules. Users can therefore easily build a system with the specific configuration required to meet the needs of their automation applications.
The second proposed solution was the IMB-M43 industrial-grade ATX motherboard, designed with intelligent PCIe bifurcation to support a wide selection of multi-channel industrial cameras for image detection and meet the needs of various usage scenarios. The IMB-M43 also features a rugged and reliable I/O interface design ideally suited to SMT production lines. ADLINK supports all multi-tasking operations and multi-point connections with its one-stop service to help customers build a complete and compatible SMT production line.
Last but not least, to meet SMT process requirements, ADLINK's industrial-grade motherboards are tested to comply with IEC 61000-4-2 to IEC 61000-4-6 (Performance Criterion A) electrostatic discharge immunity standards as well as EN 55032 Class B-EMI standards. Both standards guarantee minimum electromagnetic interference on peripheral equipment and ensure signal stability during the production process. In addition, ADLINK motherboards have a unique power design that provides a stable 5V +/-5% at each USB port to ensure that power supplies of different brands or low-voltage power supplies can still work well with peripheral equipment and power all connected USB devices at full load. They also have edge contacts with 15 microinch gold plating to provide enhanced protection against corrosive gases.
ADLINK gets to the root of customer's problem with synergy of premium hardware quality and professional service
ADLINK provides a complete portfolio of IPC automation systems in addition to motion control, data transmission and machine vision solutions that guarantee 100% compatibility so that SMT equipment can maintain smooth operation at all times and meet customer demand for high reliability. Furthermore, ADLINK has built up customer trust with its prompt and high-quality testing and after-sales support services. For example, if a customer encounters a problem with their ADLINK platform, ADLINK technical services will be on hand to help resolve the issue, regardless of whether it is hardware or software related.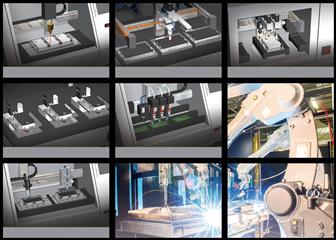 Designed with usability in mind, compatible one-stop SMT solutions satisfy customer requirements
DIGITIMES' editorial team was not involved in the creation or production of this content. Companies looking to contribute commercial news or press releases are welcome to contact us.