VATek announces 3rd Gen DVB-T2 modulator enabling new digital TV broadcast era
Press release
Taiwan based digital TV modulator maker VATek announced it is working with leading manufacturers testing its new flagship modulator product. In response to the growing demands of DVB-t2 head-ends, the company is about to introduce VATek 3rd Gen modulator chips to the market before the end of the year. These soon-to-be released DVB-T2 modulator chips will be industry's first announced non-FPGA DVB-T2 solution that can help manufactures to build the most competitive digital TV modulators.
VATek has been a driving force behind the movement of TV modulation technology, and it is now raising the bar by addressing the unique challenges to integrate DVB-T2 function into its newest product line. DVB-T2 is the latest commercial operated digital TV standard as an extension of existing DVB-T, allows a better use of the spectral resources. The technology has been widely used in many countries especially in Europe and Southeast Asia. The implementation of DVB-T2 relied on complex signal processing that keeps DVB-T2 head-end products' price very unfriendly. VATek has successfully built the very first non-FPGA DVB-T2 modulator - A3 & B3 modulator chips, which are going to be the most cost-effective solution in the market. Besides that, some additional features have been upgraded to the new chips. Including new stream engine in A3, capable to edit, filter or add PSI in real-time. The B3 ENMODER equipped with new H.264 @ 60fps encoder that make video looks better on TVs. After the reveal of DVB-T2 engineering sample earlier at Broadcast Asia, Singapore, VATek is starting to work with leading manufacturers to conduct the final test to the new chips, plans to bring the chips to market before the end of this year.
VATek is deeply engaged with several manufactures to develop digital TV modulator based on the VATek's ENMODER turnkey platform, which already been introduced to the manufactures in 2017. The technical detail of the solution is fully open-source, helps manufactures to develop competitive head-end products and integrated with hospitality system to deploy advanced digital TV services to through coax cable network. The ENMODER based products are already been installed in the hotels, schools in many countries.
VATek is also planning to bring its advance broadcast technology to different application fields. The company is working on the project to design an Android broadcasting platform that connects VATek USB modulator to SoCs and easily transforms any Android devices into a smart broadcaster or digital signage system. This can be the game changer to the media delivery industry.
VATek powered the revolution of digital TV. it pioneered first generation digital TV standards, and now, we are leading the way to DVB-T2 and bring the industry to a new era. VATek products are revolutionizing the way engineers design headend product, allowing broadcasting system became simple and smart in ways never before imagined. For more information, visit VATek's website.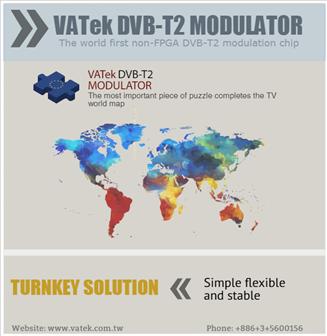 VATek DVB-T2 modulator
DIGITIMES' editorial team was not involved in the creation or production of this content. Companies looking to contribute commercial news or press releases are welcome to contact us.