Commentary: Cabinet reshuffle casts uncertainty over Taiwan AI, IoT development
Bryan Chuang, Taipei; Willis Ke, DIGITIMES
Premier Lin Chuan, who once served as chairman of Vanguard International Semiconductor (VIS), and his Cabinet members will resign en masse on September 7, casting uncertainty over the future policies concerning Taiwan's development of AI (artificial intelligence), IoT (Internet of Things), innovation startups and other technologies.
Lin has disclosed he tendered his resignation at the end of a national security meeting on September 3 on grounds that he had finished his phased missions. President Tsai Ing-wen has appointed Tainan Mayor William Lai as his succesor, who will take office on September 8.
Having served as VIS chairman during 2006-2009, Lin has shown deep understanding of and given high priority to the development of Taiwan's semiconductor and electronics industries. The outgoing premier has identified AI as a key to improving national competitiveness in the next three decades, and has given great support for the Ministry of Science and Technology's (MOST) proposal to build an AI innovation ecosystem in Taiwan. He has instructed the ministry to set up an AI innovation R&D center, and establish robot manufacturing bases in Central Taiwan Science Park and Southern Taiwan Science Park, as well as other related infrastructures.
Lin also has stressed that in order to build a complete AI industry, it is highly imperative to cluster existing ICT industries, as well as software and haerdware talent, and how to master diverse AI software programs for different fields and achieve extensive AI applications are also a very crucial task. He has also noted that the government should guide academic and research organizations as well as private enterprises to join the task.
As MOST has yet to receive budgets for implementing the AI development strategies, it remains to be seen whether the imcoming premier will endorse and continue Lin's policies. The incoming premier might have his own ideas about AI and other technological development projects, and could adjust related policies and budgets, including those for energy transformation, industrial transformation, AI, IoT, software development, innovation startups, and introducing tech talents from abroad, among others.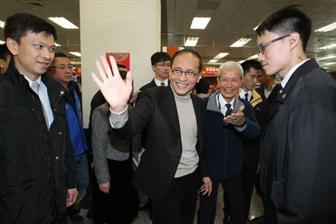 Taiwan Premier Lin Chuan, center, to step down on September 7.
Photo: Shihmin Fu, Digitimes, September 2017