Wiwynn debuts at Computex 2016 with OCP all-Flash NVMe storage and 19-inch OCP multi-node computing servers
Press release
After years of cultivation delivering cloud solutions, Wiwynn is making its debut at Computex from May 31 through June 3 in Taipei, Taiwan.
Embracing the concept of "building your optimized data center," Wiwynn will showcase all new WiRack 21 and WiRack 19 series products, and offer live demos featuring rack solutions - Wiwynn Cluster Manager and Intel Rack Scale Architecture. Additionally, there are two keynotes daily at our showroom addressing the latest server and storage technology.
The WiRack 21 showcases live demo of the Wiwynn ST7110-30P, the all-Flash NVMe storage, supporting up to 60 M.2 or 30 U.2 NVMe SSDs that delivers superior IOPS performance.
Our star product, the Wiwynn SV324G2-2/4N is a new generation of 19-inch high-density server designed with the Facebook contributed OCP motherboard. Data centers using 19-inch racks can now inherit renowned OCP product quality.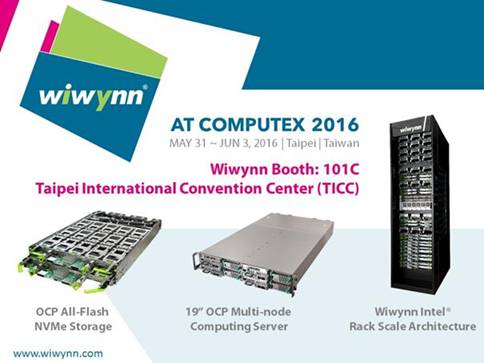 Wiwynn's server product series
Discover more about Wiwynn ST7110-30P and SV324G2 from our daily keynotes:
- 10:00: Revolutionary OCP all-Flash NVMe storage
- 14:00: 19-inch OCP multi-node computing server
To see is to believe! More innovative products will be displayed at TICC hall, Room C101, located at No. 1, section 5, Xinyi Road, Taipei, Taiwan. We sincerely welcome your visit.
For any inquiry, please contact: bing_wu@wiwynn.com
Visit our website www.wiwynn.com for more details.